**UPDATE - Check out my dad's account of the event**
Woo hoo! I just got back yesterday from a three day trip to the Columbia River Gorge with my folks. Two of those days involved fantastic windsurfing, and the third involved some nice hiking.
Day 1-
Loaded up the car with dad's old stuff and set forth.
Arrived in Hood River and rented some gear from Big Winds. It was relatively cheap. I got a Naish Global Wave 83 liter board, and a quiver of Naish ATV sails (4.0, 4.5, and 5.0). Then we headed East to Doug's beach on a recommendation from Mike at the shop.
It was a cool launch and the wind was really blowing (but gusty). I sailed a 4.0 for a while then switched to 4.5. Pretty amazing to be sailing such small stuff on a warm summer day in an inland area.
After the windsurfing we checked into a cheap hostel on the Washington side of the river called the "Bingen School" which used to be a school and had undergone very little modification to become a hostel.
It was $19 for a bunk in the dorm room where I stayed, and about $40 for a real room like my folks got. They still had chalkboards and maps on the walls and stuff. It was quirky and fun and the people there were friendly. I would definitely recommend it for penny pinching Gorge travelers.
Day 2-
I went back to Big Winds to get the forecast and decided to exchange some of my small gear for "big" gear; an 87 liter board and a 5.5 and 6.0. Then I sailed at the Event Site with my dad while my mom shopped and swam and stuff. Unfortunately, my dad only managed one shaky run on his longboard with the Naish 5.0. He said a combination of it being too crowded, too windy, and him not being confident in his ability to uphaul or waterstart in an emergency had given him "elder jitters". Also, he busted his skeg loose on a sandbar (but didn't lose it because he had a special break-away nut on the fin bolt). But I think he enjoyed watching and taking pictures.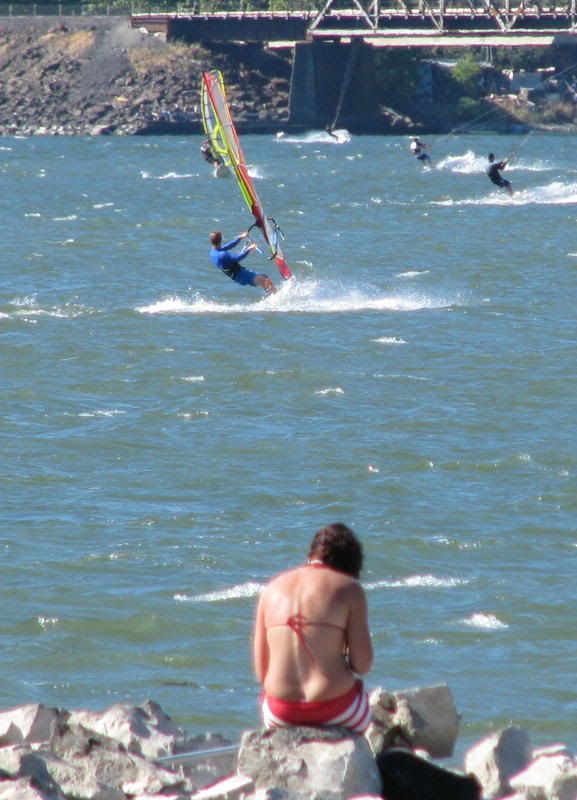 This video has some grainy footage from both days.
Day 3-
It was unusually hot on both the Western and Eastern side of the Cascade Mountains, so there was no wind through the Gorge. Therefore it was the perfect day for a high altitude hike. We drove up to the Mount Hood National Forest...
...and hiked to Tawanama Falls, which was gorgeous.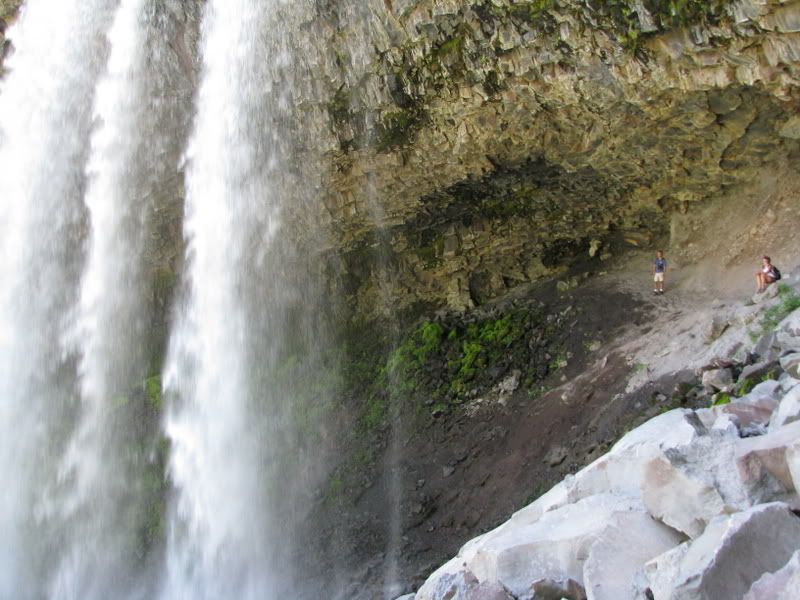 Then we drove way up onto the flank of Mount Hood itself to Timberline Lodge, a Teddy-Rooseveltish spot built in the 1930s. It had a good view of another volcano, Mount Jefferson, to the South.
From the lodge we hiked up and up, through stunted trees and fields of wildflowers into the deserty alpine wasteland.
We even saw some majestic ravens.
On the way back to Olympia via Portland, we stopped at a restaurant called Calamity Jane's and got good food with a blackberry milkshake for desert. Awesome.