After Wednesday's
glassy paddleboarding session
on Eld Inlet, I would never have thought Thursday would bring 20 knots to the same venue. But it did, so I got a chance to really put my dad's old Bic shortboard through the paces.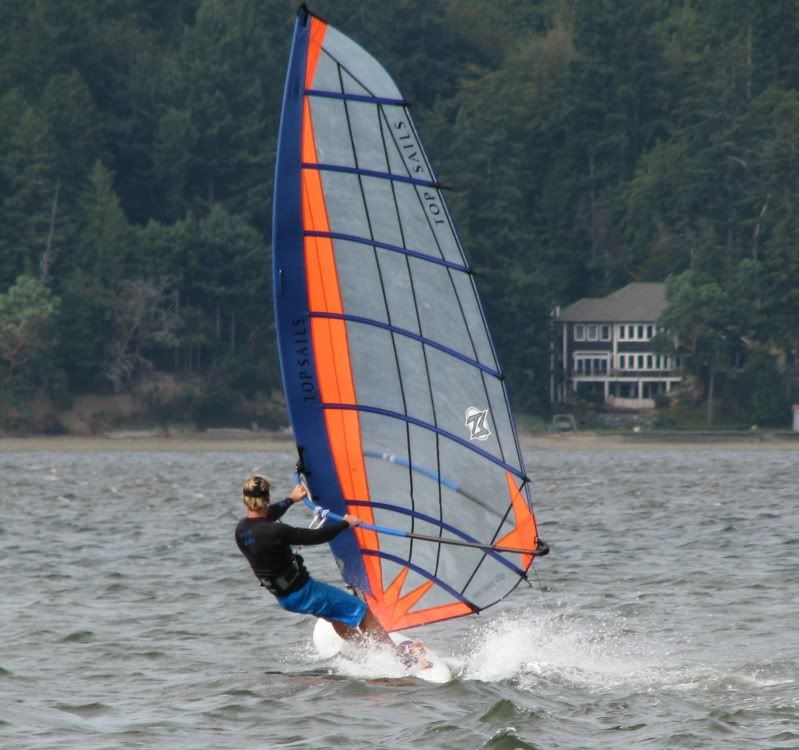 The board is a lot longer and narrower than a modern shortboard and has lots of vee in the hull, plus relatively thin, sharp rails. It cuts through chop more than bouncing or hovering over it, and rolls through jibes like a train on a curving track. Very fun feeling. The only bummer was that the chintzy us-box for the fin is starting to bust out from the strain of holding the relatively long after-market fin my dad has to match a 7.0 sail. Oh well, my folks are selling the Olympia house and moving full-time to the Carolinas soon, so they would be having to get rid of the board anyway.
Below is a video from the session. Most of it was taken by me with my GoPro Helmet Hero Wide camera...
...and some was taken by my dad with his Canon S5IS digital camera. I edited it with windows movie maker:
Yes, woo hoo, indeed. Next stop, The Gorge!
(One last pic from the Eld Inlet session. I love the wall of green...)