Whoopee! I'm recovering today from a fun weekend of Southwest Florida SUP racing, with good races both Saturday and Sunday.
Saturday was the Englewood Beach Waterfest at Weston's Wanna B Inn on Manasota Key. Sunday was the Race Around Lovers' Key, hosted by my local shop/sponsor
CGT Kayaks and Paddleboards
. I'd been looking forward to the Lovers' Key race for a long time, and I debated skipping the Englewood race to save energy for Sunday. Racing hard two days in a row could hurt one's second day performance, especially for someone over 35 like me. But I decided I like racing, and racing is good practice for racing, so I would give it my best effort both days. Here is how each race went:
Saturday 14 Nov. 2015- Englewood Beach Waterfest.
This race was based from a hotel on a narrow strip of land with access both to the Gulf of Mexico and to a protected channel called Peterson Cut. The intended course was to launch into the ocean, paddle through Stump Pass into Peterson Cut, then paddle up the cut to a buoy in front of the hotel. The short race would finish there, while the longer "elite" race would round the buoy and backtrack the course to finish at the beach.
Unfortunately, conditions required the race committee to eliminate the open water part of the course. I.e., there was a moderate swell that created tricky waves in Stump Pass, preventing the safety boat from getting into the Gulf of Mexico. So they moved the whole race into Peterson Cut. The short race was 3.7 km (once down the pass and back) and the elite race was 7.4 km (two down and backs). There was a stiff NE breeze, but mangroves lining the relatively narrow channel kept it manageable. It was much easier than the Palm Island Race, anyway.
The board I used was a Riviera RP 14' x 25", in fiberglass construction, which I've had on loan from CGT since the summer. The Riviera RP is a really fast board, especially in flat water and orderly bumps, and it works a bit better for me in those conditions than the Fanatic Falcon 14' x 24.75" that I own or the 14' x 24" 404 v3 that I used to own. All my personal best times on the courses we run regularly with the CGT Race Team have been set on the Riviera, and I don't think it's just me getting better. The board makes a real difference.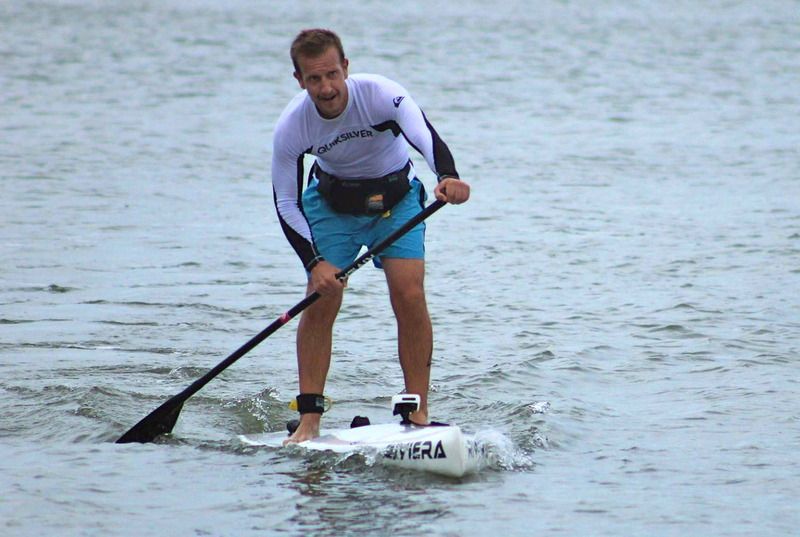 Back to the Englewood race- One unorthodox thing about this race was the drafting rule. It was "no drafting until the first turn-around, but anything goes after that." The intent of the rule was to allow paddlers of slightly different speeds to spread out a bit more naturally at first, but still allow them to work together (draft) during the grueling middle part of the race. The two best 14' SUP men, Hoviesup riders Kieran Grant and Brad Ward, probably didn't hear the rule announcement because they started drafting each other immediately after the starting horn. I was a bit frustrated to see that happen, and after the race I told the organizer Bruce Denson. I asked him not to change the standings, since Brad and Kieran almost certainly would have been 1 & 2 no matter what, but I suggested that he give them a small time penalty or something as a reminder to pay attention to the rules. Bruce handled it good. I suppose I could have talked about it directly with Brad and Kieran, but even though they're nice I don't know them well and I thought it would be too awkward to broach the subject.
Anyway, I didn't worry much about the drafting thing during the race itself, because I was busy trying to stay ahead of strongman Jamie Twigg, who was riding a fast yellow Hoviesup board. Towards that end my Speedcoach 2 GPS was an advantage, because I could tell from the readout which parts of the channel had the best combination of the three main speed-influencing factors: current, wind, and water depth. I took the sides of the channel on the way south to avoid the incoming tidal current, and I took the center of the channel on the way back to make use of that current. That gave me a slight advantage on Mr. Twigg and I finished about 25 seconds ahead of him to get third place. The absolute times listed for the race on PaddleGuru are currently inaccurate. They have me at 0:43:24 but my GPS timer said my actual time was 0:48:44, distance 7.4 km, average speed 9.1 kph. Assuming the relative finishing times are accurate, the winner Brad Ward did it in about 0:47:20, followed closely by Kieran Grant in 0:47:32. My CGT teammate and Hoviesup rider Meg Bosi had a great 2nd place finish in the womens' 12'6 class, just a minute or so behind first place Katherine Pyne, also on Hoviesup. Needless to say, team Hovie DOMINATED this race. They're based right here in SW Florida but it seems like their boards are at least as fast as anything else on the water, anywhere. Also, their boards are incredibly light, like 3 kg lighter than the typical race SUP. And they always represent with a big, mixed-gender, mixed-age team at all the Florida races, so they're doing it right as far as supporting the racing scene. I noticed that this year Hovie has two different raceboard shapes- the Comet ZXC with a classic displacement style front section, and another shape with a flat bottom from nose to tail but a domed top deck in the bow to weather rough water. Brad used the former type and Kieran the latter.
As with all races organized by this Bruce Denson guy (who runs the Englewood Race, the race around Palm Island, and the Florida Cup) there was good southern hospitality and a family / kid friendly vibe to this race. A huge number of people signed up (120!), mostly for the shorter races, which are suited to surf-style SUP boards as well as specialized raceboards. Also, the food was great, and it didn't take too long to get the awards out and the results posted online. Combining serious and recreational racing into one event works great when it's done right, although I'm sympathetic to the challenge of trying to cater to both serious and recreational racers at the same time. The seriousish racers like me tend to be sticklers about rules, results, and timing, which could overwhelm a race organizer who wasn't prepared for it.
Sunday 15 Nov. 2015- Race Around Lovers' Key.
This race was only 15 minutes from my house, and I was super stoked because it was the first ever "big production" race hosted by CGT. Also, I love races around islands because of the challenge of dealing all different wind and wave conditions on the different sides of the island. Plus you don't have to do any boring repeated laps or anything like that. The only problem is that most around-island races are too damn long. The Lovers' Key rounding is middle distance, about 9 km, which I reckon is perfect. On race day the course was a bit longer than usual because there was an ultra low tide and a buoy had to be set offshore to steer racers clear of shallows surrounding the New Pass channel. I had 9.64 km on my GPS after the race.
My strategy for the race was very different from my strategy for getting a fast time when paddling around the island in training. The difference was drafting, and it was all because Kieran Grant was there, with his awesome 14' x 23" red white and blue Hovie.
I figured my only hope of finishing close to his time would be to get in his draft as soon as possible, if possible, and stay there as long as possible. I knew it would be tough, especially since Kieran's running starts from the beach are ridiculously fast. He throws the board down in ankle deep water and does a superman leap onto it, skimming a dozen meters across the water before anyone else is even on their board. I had a not-terrible start and paddled like hell to try to close the gap on Kieran. (I'm at the right edge of this picture, right after the start.)
I hadn't quite closed it when a wake from the motorboat leading us interfered. We both tried to use it to our advantage and Kieran did that better than me. (When he's not a sup racer he is a pro-level sup wave surfer, so I assume he has unreal balance and wave catching abilities.) We needed to make a left turn to get out of San Carlos Pass, though, and the wake had taken Kieran a bit too far right. I was able to make up the distance and get behind him when we cut the corner around the north tip of Lovers' Key and started heading south in the Gulf of Mexico. Even with the benefit of drafting, it was not real easy to match Kieran's pace. My heart rate on the Speedcoach GPS display got up to almost as high as it gets when I'm not drafting. I concentrated on holding my position, breathing, and paddling with good form, and it got a little easier. I think if Kieran had REALLY wanted to shake me off his tail at any point he could have, but he didn't. I almost shook myself off though when I fell at the buoy turn to enter New Pass. I got back on board as fast as humanly possible and started paddling hard directly into the wind and outgoing tidal current to try to catch Kieran again. That's when I hit my max HR of 189, but somehow I got lucky and glued myself to Kieran's stern again just before running out of energy for sprinting. I think doing sprint interval training in the Imperial River with the other CGT race team folks really helped me to be able to do that.
After fighting the wind and current going through New Pass, we turned north and started fighting the combination headwind/sidewind coming across Estero Bay. Even Kieran was getting tired, and he made a comment to that effect. I took a turn pulling the draft, and went as fast as I could without letting my HR get over 184 or so. Before long Kieran took over again. There was a lot of boat traffic at that point in the race, including an annoying pontoon boat that was going almost exactly the same speed as us and messing us up with his wake that was awkwardly interacting with the wind chop, other boat wakes, and our own SUP wakes. Kieran pulled ahead there and I simply couldn't catch him again. I just went as fast as I could to the finish line, and was stoked to be only 25 seconds behind him when it was all over. He got 1:05:11 and I had 1:05:36.
The finish!
Third place overall, in 1:08:54, was legendary 50 year old tough guy Mark Athanacio on a borrowed 12'6 Hovie.
3rd in the 14' class and 4th overall was John Sekas, an ageless bronzed 50-something who rides a 14 x 23 MHL custom board. The next two finishers were both on Riviera boards- young Will Connaughton on a 14 x 23 and 49 year old Murray Hunkin on a 14 x 27. Close behind Murray was Mark Hourigan who was on a 14 x 27 Yolo. Mark H. is switching to a narrower board and just put his mint-condition Yolo up for sale for $1200, which is a good deal if anyone is interested. Full results from the race are posted below.
Other notable achievements include the top 3 women (Lacie Flynn on a 12'6 Bark Vapor, Kate Pagan on a 12'6 Hovie custom, and Meg Bosi on a 12'6 Hovie Comet) beating all the 12'6 men with the exception of Mark Athanacio. Lacie and Kate also beat two of the young 14' guys, Brandon Gunderson and Justin DiGiorgio. Better practice harder, dudes. For some paddlers it was their longest and/or toughest race ever (because of the wind and current), so it was a big personal achievement for them that they finished. One woman, I think Donna Catron (?) finished the whole thing in less than two hours on a chunky pink surf style sup. Crazy.
Will nice board
Murray big finish
Mark Hourigan last time on the 14 x 27 Yolo.
Lacie Flynn winning the womens on 12'6 x 26 Bark Vapor.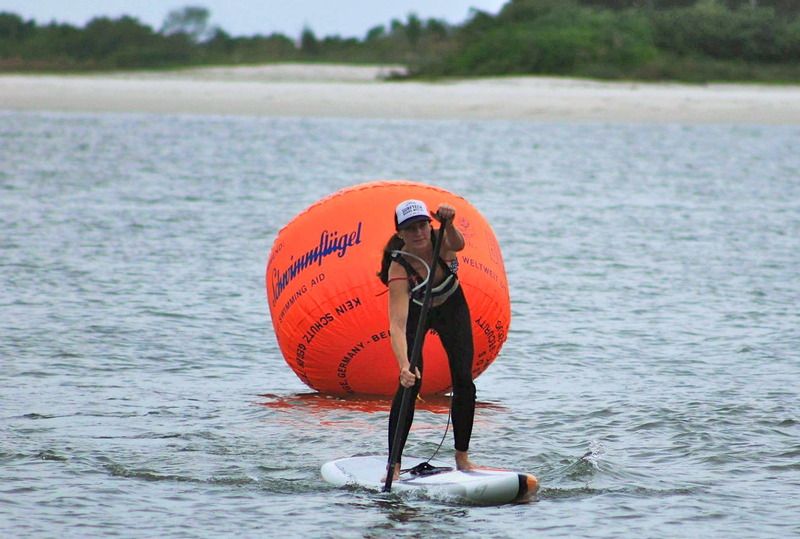 Kate Pagan good reach.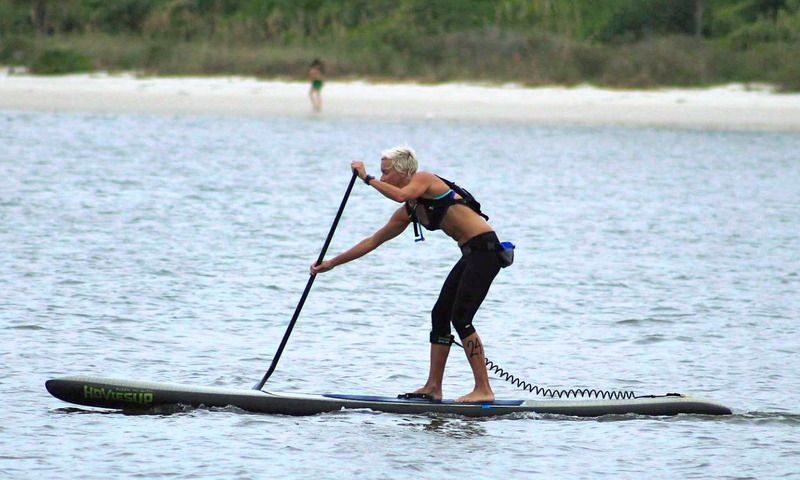 Meg Bosi making it look easy.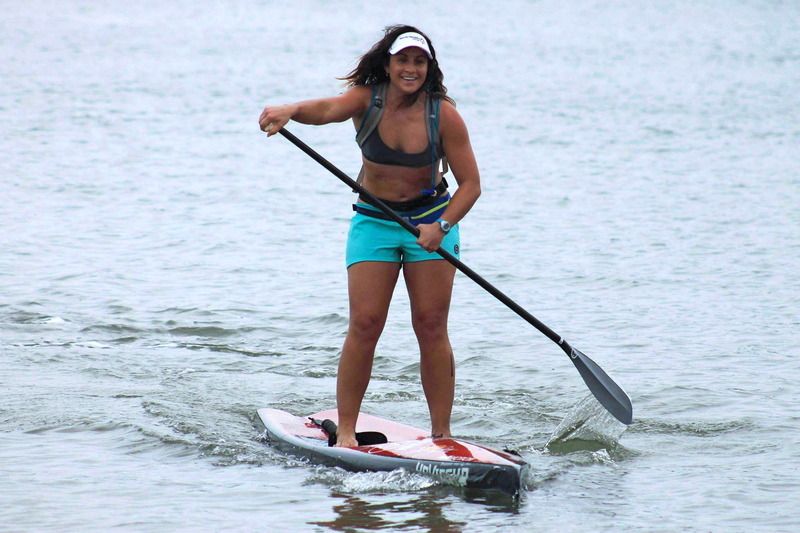 Justin DiGiorgio (404) and Brandon Gunderson (Hobie).
Mark Payne oldest guy out there but still fast.
Speedcoach GPS representative Adam Pollock on super long unlimited SUP.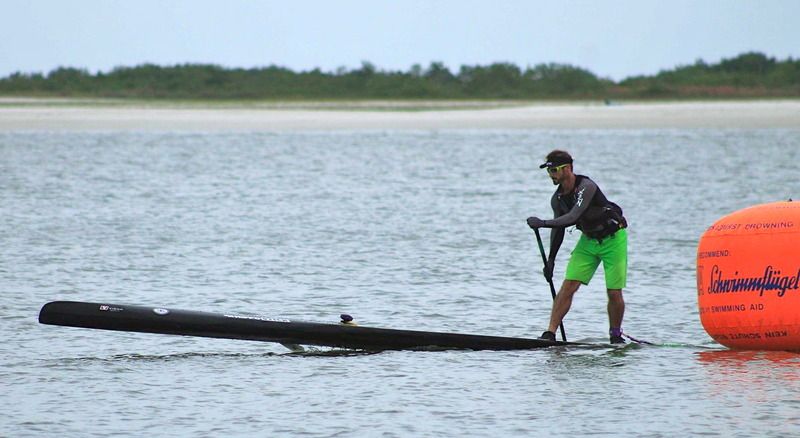 The awards for the Lovers' Key race were totally unique, with queen conch shells mounted on nicely finished wooden plaques. Local artist / jack-of-all-trades Steve Nagy made the trophies. I had really been coveting them before the race so I'm super stoked now to have one to show off in my house. There was a good lunch provided by Stan's Subs from Bonita Springs, and there was a raffle with some cool prizes including pink plaid and green camo-print Riviera paddles. I won an ironic trucker's cap with "Riviera" on it. Also everyone got t-shirts with CGT's Caloosa tribal logo.
Next up on the race calendar is the "Paddle for Pups" fundraiser race Saturday November 21st at Riverside Park in Bonita Springs. It's a very doable 6.4 km in flat water, for $20. I might try a new board in that race. Will Connaughton left the 14 x 23 Riviera custom (2016 shape and super light carbon fiber construction) with CGT...