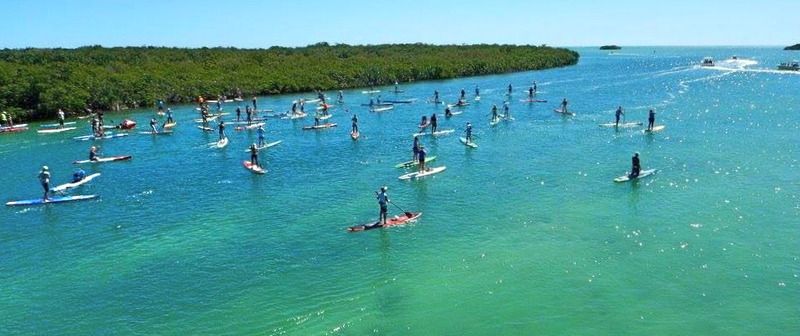 Race
: "Midwinters in Paradise" hosted by
PADDLE! The Florida Keys
Date it happened
: 13 February 2016
Location
: Tidal creek, canal, and shallow, open water near Tavernier Key, FL
Distance
: 9.43 km long race, plus a ~4 km short race and a sprint distance kids' race
Here's my track from the long race. You can view it in Strava for more detail or to see it over an aerial photo background.
Conditions
: Gorgeous, sunny, mild weather with clear blue water full of seagrass, sponges, soft corals, algae, sting rays, and nurse sharks. There was a strong current in the tidal creek and moderate wind and chop in the open water.
Participants
: 54 people did the long race, 25 people did the short race, and some kids did the kids race. Representing Bonita Springs'
CGT Kayaks and Paddleboards
race crew were Meg Bosi, Saralane Harrer, Murray Hunkin, Mark Hourigan, Mark Athanacio, John Wheeler, and me.
Results
: Garrett Fletcher from Destin, FL had a solid first place in the long race with 1:01:56 on his custom Yolo sup. I got second place with 1:03:21 on Garrett's old custom Riviera. Several other guys were right on my tail, the closest being Christian Goerloff who did 1:03:24 on a nice 2016 Starboard AllStar 14'x25". Mark Athanacio won the 12'6 division handily on a new Hovie Comet GT, and Seychelle Hattingh won womens' overall and 2nd overall in 12'6. In the short course, John Wheeler won the mens' and Emily Davis (beau of Garrett Fletcher) won the womens'. Saralane Harrer was 4th place- amazing for a new racer.
Garrett Fletcher and me on the Podium. I used Garrett's old board to get 2nd place.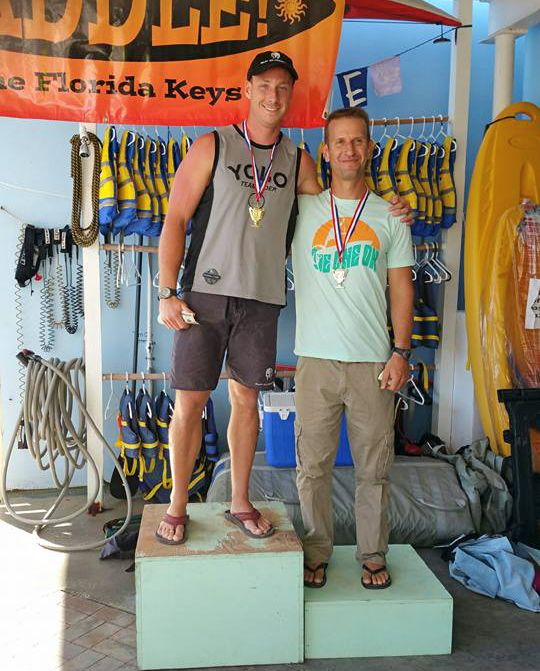 Super fit Seychelle on top, with Lizi Ruiz and Milla Navarro.
Mark Athanacio resting on the new 12'6 x 24" Hovie Comet GT he used to win the 12'6 division.
Emily Davis, Garrett's beau, on top of the podium for the short race.
Results for the long course are pasted below. Full results are on
PaddleGuru
:
Long Course Results
Name Craft Gender Time
Garrett Fletcher SUP 14' male 01:01:56.55
James Douglass SUP 14' male 01:03:21.43
Christian Goerloff SUP 14' male 01:03:24.78
Joey Huempfner SUP 14' male 01:03:31.29
Zach Rounsaville SUP 14' male 01:03:37.60
Sam English SUP 14' male 01:03:55.09
Connor Bonham SUP 14' male 01:04:53.06
Jacob Graham SUP 14' male 01:05:47.46
Mark Athanacio SUP 12'6" male 01:07:15.56
Stephen Chase SUP 14' male 01:08:13.84
John Sekas SUP 14' male 01:08:33.10
David Dean SUP 14' male 01:08:48.49
Seychelle Hattingh SUP 12'6" female 01:09:34.45
Murray Hunkin SUP 14' male 01:10:15.55
Mark Hourigan SUP 14' male 01:10:24.21
Joey Kolisch SUP 14' male 01:10:42.16
Willy Mendez SUP 14' male 01:10:50.49
Pierre Marc Bellion SUP 14' male 01:11:28.87
Neil Uden SUP 14' male 01:11:30.38
Endre Virag SUP 14' male 01:12:10.83
Lizi Ruiz SUP 12'6" female 01:12:32.07
Bob Capwell SUP 14' male 01:13:07.89
Mark Miller SUP 12'6" male 01:13:27.29
Milla Navarro SUP 12'6" female 01:14:31.75
Mab Mab SUP 12'6" female 01:16:01.91
Catherine Uden SUP 12'6" female 01:16:10.37
Rachel Ferguson SUP 12'6" female 01:17:11.79
Dan Smith SUP 14' male 01:17:56.60
Meg Bosi SUP 12'6" female 01:18:36.75
Henry Hidy SUP 14' male 01:18:48.97
Al Simmons SUP 12'6" male 01:19:36.57
Nessa Brunton SUP 12'6" female 01:21:10.27
Adam Pollock SUP 14' male 01:21:21.38
Amy Carden SUP 14' female 01:22:04.97
Matthew Johnson SUP 14' male 01:23:01.47
Nick Quay SUP 12'6" male 01:23:13.36
Karl Eugster SUP 12'6" male 01:23:23.71
Alan Montgomery SUP 14' male 01:24:31.89
Rj Reed SUP 14' male 01:25:45.93
Robin Moran SUP 12'6" female 01:26:30.32
Bill Whiddon Prone (All) male 01:27:14.91
Jene Kapela SUP 12'6" female 01:28:57.89
Gregory Lynch SUP 12'6" male 01:31:26.36
Tammy Perkins SUP 14' female 01:31:52.12
Robert Hubsch Prone (All) male 01:34:55.57
Joshua Kohn SUP 12'6" male 01:37:47.11
Re'al Cyr SUP 14' male 01:40:14.25
Bubba Ellis Prone (All) male 01:42:15.77
Chris Baker SUP 14' male 01:44:32.87
Mike Molinari SUP 14' male 01:46:04.34
Marlon Jael SUP 12'6" male 01:46:40.82
Shana Gaskill SUP 12'6" female 01:54:35.90
Brooks Miller SUP 14' male DNF
Joe Pacini SUP 14' male DNF
Play by play
:
The race start was a little goofy. We were trying to line up behind a buoy in Tavernier Creek but the current was pushing everyone over the starting line or forcing them to face in the opposite direction to stay in position. In the final 30 seconds of countdown they gave up on keeping us behind the buoy and called the A1A bridge the startline. I'd been trying to stay behind the real startline so I was near the back of the crowd when it started. Doh!
Under A1A highway for the start.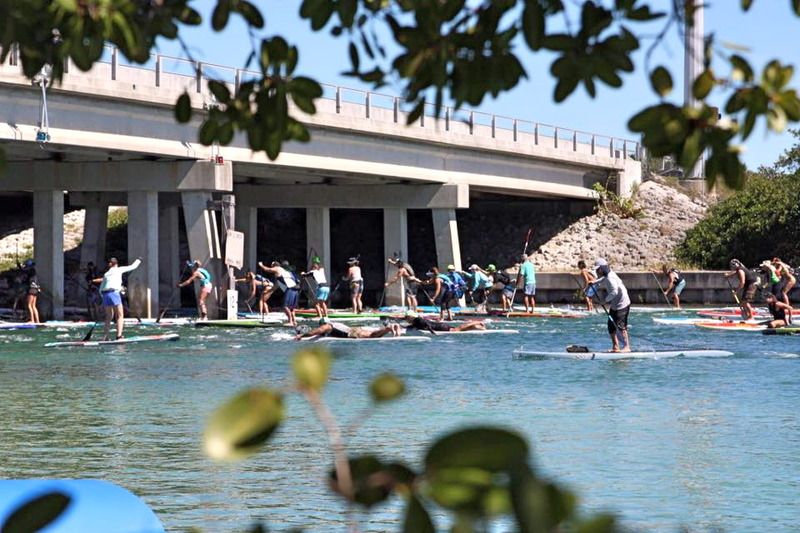 Start from above.
Traffic under the bridge.
My buddies Mark Hourigan (white Riviera) and Murray Hunkin (blue Riviera) giving NASCAR style trouble to Neil Uden (blue and green Boga), while all three struggled to avoid a powerboat that was barging through the course.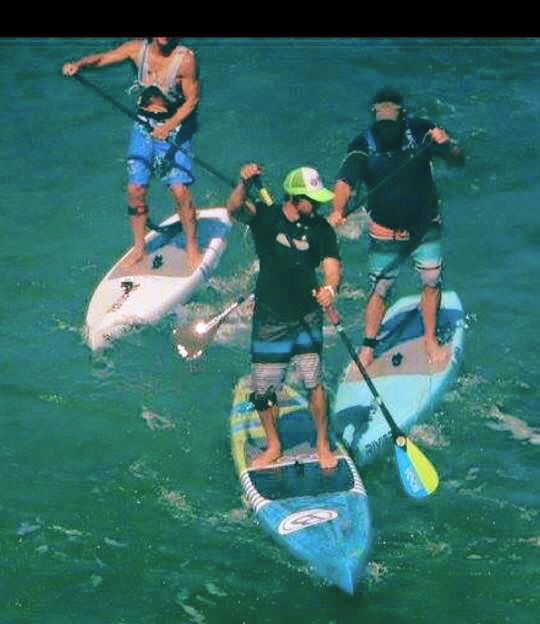 I did my best to weave through the slower racers and stay upright in the rough water on the initial sprint north to a buoy in the creek. Once I rounded the buoy I was getting close to the front pack of racers and I put in a big effort to get in someone's wake. They were all fast, though, so it was hard, especially hard going against the current in the rough water. I eventually did hook up with the "B" draft train of Samuel English (Lahui Kai board), Joey Huemphner (Bote/Darkroom board), and Christian Goerloff (Starboard). The "A" draft train of Garrett Fletcher, Connor Bonham (Bic board), and Zach Rounsaville (Indigo board) was further ahead.
Positions in the B train shuffled a bit but I stayed behind Christian as we rounded tiny Kaltreux Key and started grinding side/upwind toward Tavernier Key. Zach fell of the A train but joined the B train when we caught up with him. Christian was absolutely motoring into the chop- his 2016 Starboard AllStar seemed to handle it well. I figured he'd get tired and want one of us to pull, but he never gave up the lead position. In the A train Garrett broke away from Connor Bonham, who must have been really exhausted, because we started gaining on him. We got closer and closer to Connor as we hugged the mangrove shoreline of Tavernier Key, and we linked with him then passed him crossing the open water on the way back from the Key.
I fell off my board in the open water just beyond Tavernier Key, as the chop combined with some boat wakes. (Beside Christian Goerloff, I think everyone in the B train fell at least once.) I got back on quick, and found that I could actually make better progress in that rough water by NOT drafting Christian. I took a higher upwind line than him, got some downwind glides and ended up slightly ahead by the penultimate leg along a sheltered mangrove shoreline. There I tried to keep a steady, strong pace and not let Christian edge ahead. I reckon I had more energy than him at that point because he'd been pulling and I'd been drafting for most of the race. Coming across Tavernier Creek for the final, short leg in a man-made canal, it looked like I had a semi-secure grip on second place.
Horrifically, I fell at the buoy turn in the canal, only about 200 meters from the finish line, with Christian and the rest of the B train right behind me. I got back on real fast and sprinted like heck to try to recover. I saw the red nose of Christian's board loom up alongside me, but by then I was at my full speed, and I could kind of edge him towards the mangroves so he couldn't get around.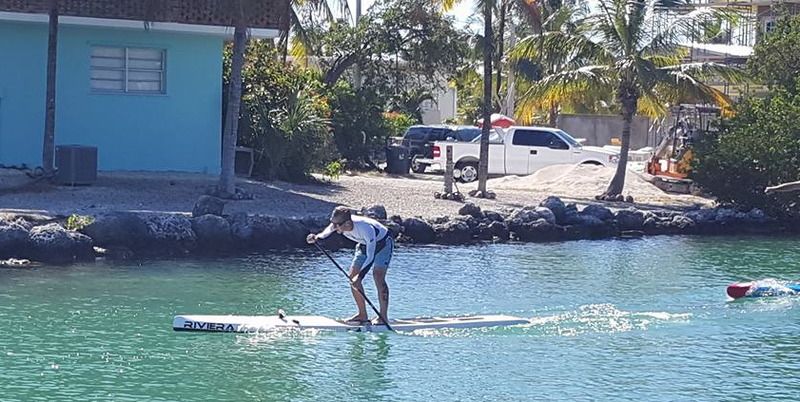 In the end, in spite of falling a couple times, I was able to steal second place. Woo hoo! I even got $100 bucks for it, which more than paid for my $30 bunk Friday night at the "
Everglades International Hostel
" in Florida City. (BTW the hostel was pretty funky, like a 1960s hippie commune, but the people were very nice. Good alternative to camping if you're looking to do a keys/everglades adventure on the cheap and you don't mind sleeping on a bunk and sharing a bathroom with strangers.)
Other race intrigues
: Murray Hunkin had a good race with few falls, and managed to beat his buddy/nemesis Mark Hourigan by a little bit. However, Mark and Murray were both surpassed by Seychelle Hattingh, who was 5 minutes ahead of second place female finisher Milla Navarro, and ahead of most of the men, as well. Seychelle rode her 12'6 Mistral SUP, and lent her 14' Mistral to technically-minded sports trainer Adam Pollock, who despite his fitness clearly had some trouble staying on top of that 23" wide board. Narrower is only faster if you can balance on it. Though Seychelle, like Garrett on the mens' side, was in a league of her own, the next group of women finishers was pretty closely spaced. Relatively new racer Rachel Ferguson had a very strong finish, edging out my teammate Meg Bosi, and not far behind experienced racers Mary Ann Boyer and Catherine Uden.
Rachel with her guy Stephen Chase.
Amy Carden, one of the few women to ride a 14' sup, got around the course in good time on a new-to-her 14'x23" custom Riviera. Three guys raced prone paddleboards, and all managed to finish. In the short course, John Wheeler crushed his competition, riding a 2013 model 12'6 Fanatic.
PS
: The
high protein diet effects on SUP racers
study that I was participating in concluded on Friday with a final round of body composition and SUP ergometer testing at Dr. Jose Antonio's Nova Southeastern University lab in Fort Lauderdale. Contrary to predictions, my buddy Matt Kearney and I both got FATTER during the study, from 11-12% body fat up to 14% body fat. But we added some muscle, too, and our times on the SUP Ergometer were faster. I went from 4:15 to 4:07 on a simulated 500 m course, and Matt went from 5:04 to 4:40. Matt thinks some of his gains were simply the result of more efficient SUP erg technique, though it's likely he got stronger, too. I have a hypothesis for why we got fatter. I think it's because we had to log all of the food we ate every day in a web application called "myfitnesspal." As we entered food data for the day we could see if we were under or over our calculated allotments for protein, calories, etc. If we were over, there was nothing we could do about it, but if we were under, we would often do some additional, highly caloric snacking to get up to quota, even if we weren't hungry. Now that the study is over I am going to stop logging my food intake, but I'll keep taking a moderate level of protein supplementation, just to make sure I'm getting enough to repair all the muscle breakdown than my SUP workouts are inflicting.