Compared to "normal" sports, windsurfing is incredibly obscure. Yet, despite its relatively small number of participants, it generates some fantastic stars. These fascinating and talented individuals are worthy of respect in any arena. Here's a (by no means complete) guide to a few that stand out in my mind. (Note to photographers- I didn't pay attention to photo credits but you can email me if you need me to remove or more thoroughly reference a certain pic.)
Golden Gods
If you are only going to remember one windsurfer's name, it should be
Robby Naish
. The tough, blond Hawaiian exploded into fame and competitive domination precisely as the sport itself boomed in the early 1980s. His supernatural speed, wave-riding, and jumping skills were virtually unbeatable. Robby pulled off moves 25 years ago on primitive equipment that even the best windsurfers today struggle to imitate. Naish's signature hot-pink sail could be seen on every poster, and in every magazine and windsurfing movie. His winning personality and natural aptitude as a windsurfing ambassador have kept him in the limelight long since his retirement from competition in the 1990s.
Naish is a major businessman, too: A few years ago he started
his own line of windsurfing and kitesurfing equipment
, which is now one of the world's top brands, and naish.tv showcases the most awesome moves being pulled off by today's stars. Robby and his young team-rider Kai Lenny are featured in the fabulous new film "
The Windsurfing Movie
" by Johnny Decesare and Jace Panebianco.
Have you ever seen the rocky film where Rocky fights the Russian guy? Well, if Robby Naish is Rocky, then
Bjorn Dunkerbeck
is the Russian guy. (Even though he's not actually Russian.) Dunkerbeck is some sort of Swiss-German-Austrian-Viking Spanish expatriate mutant Euro-Beast. He came along a couple years after Naish, became Robby's fiercest competitor, then ruthlessly surpassed him. NO ONE could beat Dunkerbeck, aka The Terminator, in the 1990s. He won EVERYTHING; 11 world championships in a row.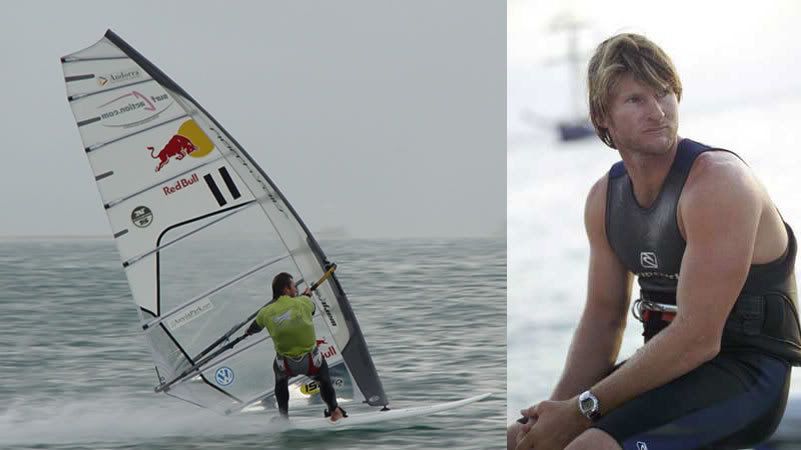 It wasn't until the turn of the millennium that he finally lost his crown to American Kevin Pritchard (featured further down). Still, no one could dominate like Dunkerbeck, and probably no one ever will again.
The one person who might prove my last statement wrong is the incredible French beefcake,
Antoine Albeau
, aka "Tony Elbow" aka "The running elephant".
He is the current
Professional Windsurfing Association
racing champion, and seems to be every bit as invincible as Dunkerbeck. The only way you can win a windsurfing contest now is if Antoine Albeau is somewhere else at the time, winning another windsurfing contest. Big Tony is even knocking at the door of the ultimate prize; the all-out world sailing speed record, currently held by our next featured windsurfer.
Speed Demons
Finian Maynard, from the British Virgin Islands, is huge for a windsurfer at 260 pounds. That puts him at a disadvantage in light winds, but in strong winds the combo of weight, skill, and balls makes him faster than anyone else. Finian currently holds the world sailing speed record of 48.7 knots over 500 m. That's over 53 mph!
So far, 50-knots over 500 meters has never been broken by a wind-powered craft on liquid water, and there's a mad arms race between windsurfers, kiteboarders, and specialized sailboats to be the first to hit it. Maynard it the great white hope that windsurfers will be number 1. I'm rooting for him, but I actually think that the kiteboarders have a better chance, because basically all they have to do is get dragged across a big mud puddle by a hurricane.
The women's speed record holder is
Karin Jaggi
from Switzerland. At 42 knots, her speed isn't quite up there with Finian's, but it's still much faster than mere mortals can sail. Jaggi is also impressive because she's probably the best all-around female windsurfer, having won world prizes in every discipline from racing to waveriding and freestyle.
Women's professional windsurfing is tough competition, especially with the Moreno Twins around.
Dynamic Duos
Daida and Iballa Moreno, from Spain's windy Canary Islands, seem too unbelievable to be real.
It's as if windsurfing marketers created them in a lab. Stunningly gorgeous and exotic with
world-champion waveriding and freestyle skills
… and there's TWO of them!
Sibling competitors are actually sort-of a theme in professional windsurfing. Take the Frans brothers, for instance. Tonky and Taty from the Caribbean island of Bonaire started as talented locals in a windsurfing resort town.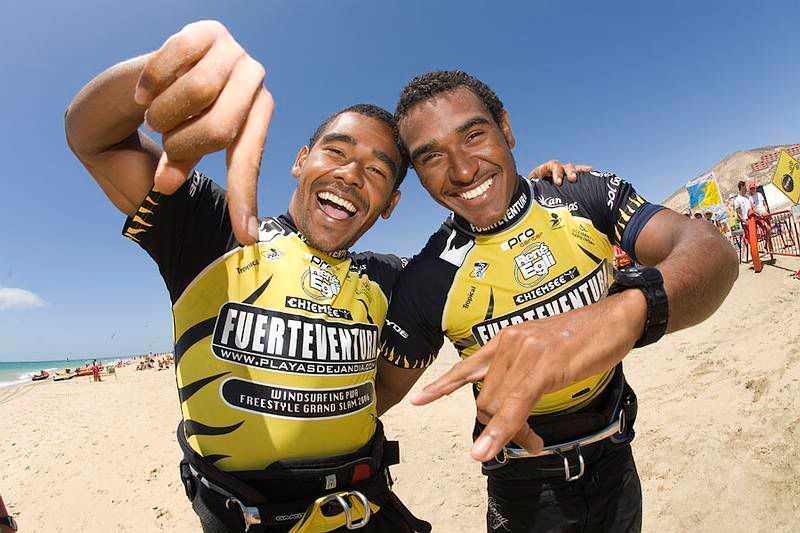 They busted into the "freestyle" discipline around the year 2000 and promptly ousted the old guard, leading the charge of so-called "new-school" freestyle. They are still top-competitors, and have now branched out into the slalom racing and waveriding disciplines, as well.
Matt and Kevin Pritchard, from Hawaii via California, became America's windsurfing golden-boys around the time that Robby Naish retired. Now seasoned competitors, both Matt and Kevin are masters of all disciplines and have won multiple world championships.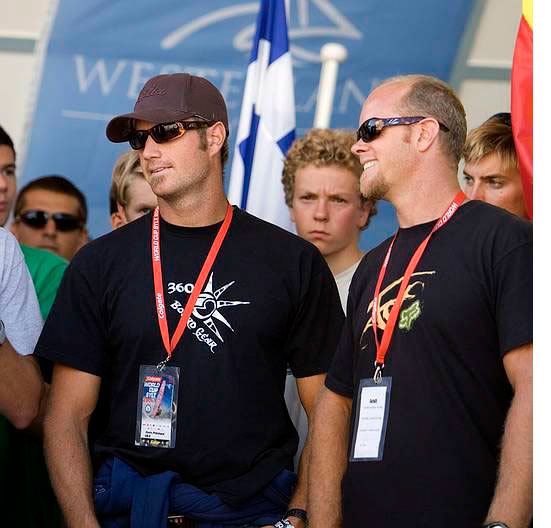 Older brother Matt has backed away from the spotlight a little, but the fire is still burning hot in younger Kevin, who battles Antoine Albeau on the race course, and slashes away at his rivals in the waves.
Kevin keeps a sweet blog
, too, showing a creative and artistic side with his photography.
Dale Cook and Bruce Peterson break the sibling trend for duos, but they might as well be brothers. They are co-kings of the Columbia River Gorge; windsurfing hotspot of the Pacific Northwest.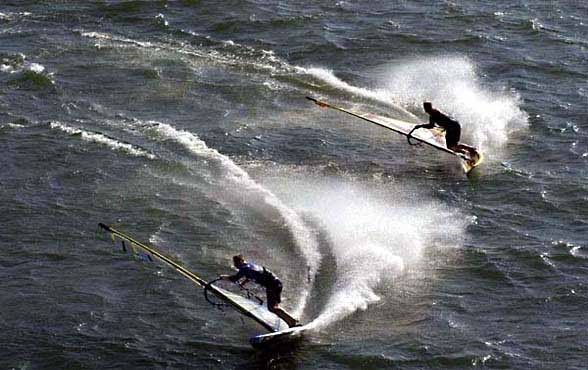 Peterson is a Gorge veteran who now operates his own sail company;
Sailworks
. Cook is Sailworks' number one rider. Bruce and Dale share a common sailing style; riding hard and fast and jumping higher than anyone else. Silver-haired Peterson still dominates Gorge slalom and formula racing, while Cook's suicidal, mile-high jumps are unparalleled in the windsurfing world.
Hot Right Now
Young Brazilian Kauili Seadi is probably the most skilled and dynamic windsurfer in the world today.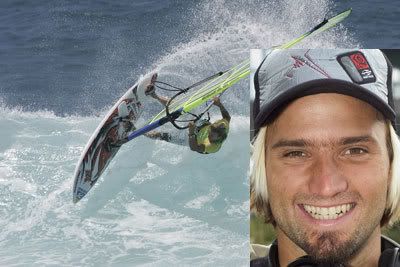 He started as a new-school freestyler, perfecting every high-speed contortion imaginable with a board and sail. Then he combined those skills with his mastery of conventional (no sail) surfing to become the most
mind-blowing wave-destroyer
in the universe. Kauli started using boards with two, parallel fins so that he could ride waves with an extra-slashy style, and now everyone is copying him by getting twin-fin boards of their own. Seadi has also pioneered previously inconceivable aerial maneuvers, like the incredible "push-loop-into-forward-loop".
Moroccan
Boujmaa Guilloul
is an equally impressive aerial freak.
He is renowned as the master of the "tweak", meaning that when he reaches the apex of a jump he bends his body and board into a shockingly twisted pose before snapping back into a steady position for landing.
Third in the list of awesome jump-masters is Spaniard Victor Fernandez.
His seamless backloops and double forwards are textbook perfect. And more so than Kauli or Boujmaa, Victor is able to stay cool and score big in competitions, earning him the nickname "Victoryman".
Hawaiian child and current resident of Africa's Cabo Verde islands,
Josh Angulo
has been in the windsurfing scene for a while. As a younger guy in the 1990s he was a promising up-and-comer, but he hit a downward spiral with drugs and stuff, as documented in "The Windsurfing Movie". Josh had a dramatic religious conversion, though, and was miraculously able to repair most of the damage he had done to his personal and professional life.
The most glorious affirmation of his redemption came when he won an epic PWA wavesailing contest last year in his adopted homeland of Cabo Verde.
Steffi Wahl is a talented German wavesailor. Unlike a lot of her competition, she has a full-time white-collar job and doesn't live in a tropical windsurfing hotspot. Nevertheless, she took an impressive 2nd place at the 2007 PWA contest in Sylt. Another reason I put her in here is because I think she's extremely attractive in a German sort of way, like a rose in the rain. Or something like that.
Guru Geniuses
Some windsurfers are famous not so much for their athletic skill, but for their knowledge, creativity, and savvy in designing gear and building the sport. Foremost amongst them is
Jim Drake
, original inventor of the modern sailboard.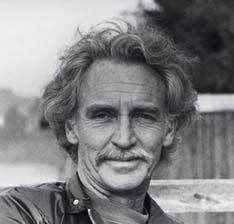 He is still around and still squirting out ideas like Ben Franklin drunk on prune juice and vodka. The leading windsurfing company "Starboard" keeps him in the back room, where he dreams up their innovative new boards, along with Tiesda You.
Starboard's chief board shaper Tiesda You is the Thai hydrodynamics savant responsible for the weirdest and coolest new boards in the last 10 years of windsurfing.
He and Jim Drake came up with everything from the freakishly fast, super-stubby "
Hypersonic
" board to the kayak-shaped "
Serenity
" board that is light-years faster then anything else when there is only a breath of wind.
Starboard is big into gurus. Roger Jackson is their windsurfing instructional and equipment guru.
With guru-ess Ellen Faller he travels around the country giving clinics and demos. What's really neat is that you can ask Roger ANY question you have about windsurfing on the
Starboard "Windsurfing School" forum
and he will patiently answer it.
Dave Kashy is a local guy from Newport News, Virginia, but he's famous around the world for building the best fins for formula windsurf racing. His intense competitiveness, bulging engineering brain, and obsessive attention to detail make all the difference.
Professional racers and wealthy amateurs alike will pay nearly $1000 and wait over a year for a single one of his custom-made fins.
Barry Spanier
is a highly respected sail designer who has been experimenting and improving windsurfing equipment since the sport's infancy.
He has a really interesting blog / autobiography on the Maui Sails website. If he ever writes a book I'll totally buy it.
Blogger Buddies
A final category of windsurfers to know is the blogger category. We may or may not have any particular skills or knowledge. Yet, we are united by being especially obsessed with the sport and eager to share our strong opinions and long shaggy-dog stories.
I think the most popular windsurfing blogger is
Giampaolo Cammarota
, a charismatic Italian living on Maui. In addition to windsurfing, he writes a lot about surfing, environmentalism, and women's legs and buns. Giampaolo is a pioneer of surfing-style longboard windsurfing and stand-up-paddle-surfing; exciting new trends that may help bring surfing sports to the masses.
Steve Bodner
is a member of the masochistic San Francisco formula windsurfing cult. It's so windy in San Francisco Bay that most people ride tiny boards with tiny sails. Yet, Steve and his hardcore crew use huge sails and terrifyingly difficult to control formula boards in grueling races covering the entire bay. By writing eloquently about his experiences Steve helps the rest of us live formula windsurfing as it's meant to be lived; vicariously.
Bill Bell
is the alliterative boardsports blogger of North Carolina's windy Outer Banks Islands. He's not quite a pro windsurfer, but he's at the next level above most advanced sailors and thus inspires us to confront intimidating hurdles like sailing in serious waves and attempting forward loops.
The "
Peconic Puffin
" (his real name is Michael) is an extremely dedicated windsurfer living in Long Island, NY. He and his crew sail in even the most ridiculously cold conditions. Whereas I stop sailing when it's below 42 degrees, the Puffmeister just smears lard over his exposed patches of skin, knocks the ice off his sail, and keeps going. When his fingers thaw out, he's also one of the most clever and prolific writers about windsurfing that you'll find anywhere on the web.
Well, hope you've all enjoyed this guide to windsurfers for 2008. Obviously I had to leave out tons of good ones. If you want to add anyone in particular that I missed, please do it yourself in the comments section. :)