UPDATE, March 10 - I SOLD THE BOARD!

So if you are looking for used windsurfing gear in the US or Canada, try the free classifieds section of iwindsurf.com
Yeeeee haaaaw! This February must be setting a record for the best winter windsurfing ever in Virginia.
The
launch at York River Seafood
was perfect this afternoon, with 15 rising to 25 knots from the South and a great variety of swells and ramps.
I was there with Sam Lake and Heather Wiseman from VIMS. Sam kited with a 13m, getting big airs, until he got overpowered and retired. Heather did great windsurfing, planing with a 3.5 on my Kona, and Sam also rode the Kona / 3.5 combo for a while. I used a maxed-out 5.2 on the
F2 Style 250
I just got from
Karl Quist
.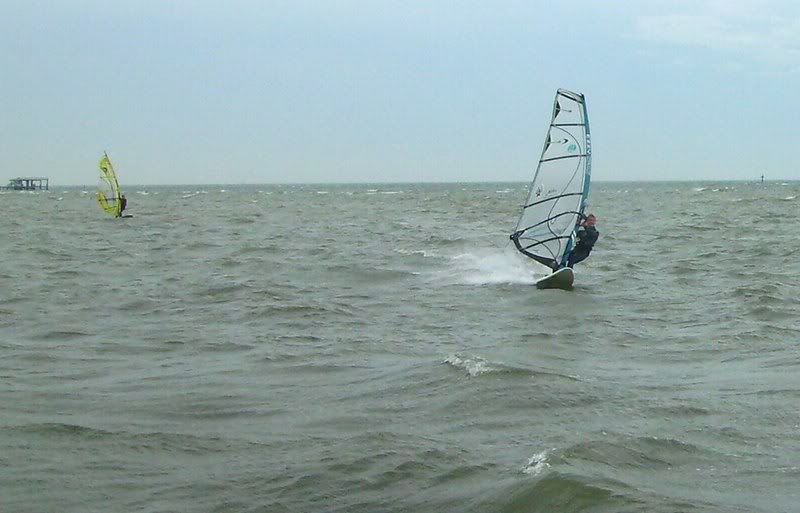 I liked the F2 ... which means I'm (reluctantly, because I'd keep it if I had room) going to sell my beloved yellow "banana board", a Pro-Tech ATC 253. I know there are already some
waveboards for sale locally
, but mine beats them all and is a steal at $250 with one fin or $300 with 4 fins. For those interested, I put more info about the board below-
Model:
Pro-Tech ATC 253
Production Year:
2001
Design Intent:
Wave, bump & jump, blasting
Size:
253 cm long by about 55 cm wide
Volume:
Reportedly 77 liters, but floats and planes like 85 liters, IMHO
Fin Box:
US Box (still standard for wave boards)
Special Features:
ATC stands for "All terrain cut-away-tail", meaning that the tail has small cut-outs on the side that recess to a wave-board rocker for sharp turns, while the central part of the tail retains a flatter rocker for speed and early planing. The cut-outs must work because the board planes significantly earlier than a conventional waveboard. The tail design also makes it easy to change the behavior of the board to more wave-like with a wave fin or more slalom-like with an upright fin.
Condition:
Very good. I've kept it bagged, so with the exception of a couple small chips in the paint, it looks new.
Fins:
I have collected a bunch of fins with the board-
-10.25" Finworks Wave Blade; Fast slalom / wave fin best for 4.5 - 5.5 sails
-9.5" Angulo; Very powerful but turny wave fin best for 5.0 - 6.0 sails
-23 cm Twister Carbon K; Very turny, controllable fin for smallest sails up to 5.2
-23 cm Orca Weed-Wave; Easy-riding, spinout resistant weed fin for all sail sizes
Windsurfing Magazine Review:
link
Blog posts in which the board and fins appear:
boardology
,
finology
,
second-wind
,
sunday-windy-sunday
,
super-tuesday
UPDATE, March 10 - SOLD THE BOARD!