Today was the
Windsurfing Enthusiast's of Tidewater's
second "Intro to Windsurfing" event for 2008. It was held at
Fort Monroe
in Hampton. Students paid $25, which was a pretty darn good deal for windsurfing lessons, especially since it included a "
Start Windsurfing Right
" book. We did most of the teaching on
Mistral Prodigy
boards and beginner rigs lent by
Beach Sports
.
I taught a group of several women of varying ages and abilities. Everyone had success except one poor girl who was only 80 lbs. To her, the 3.5 m2 sail was like a 7.0 m2 sail would be to a typical weight beginner; impossibly huge. Oh well.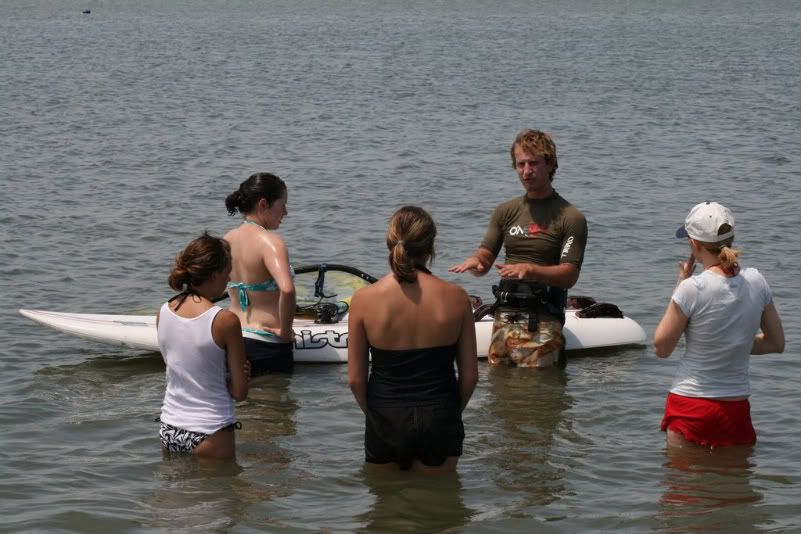 (Picture by Chris Coyne. Many more pics on
his account
of the event.)
The most encouraging thing about today was that several of the newbies from
last year
had returned with gear of their own and good, independent windsurfing skills. Proof that the system is working.
As the instruction was winding down I took the opportunity to do some joyriding of my own. I had a chance to compare my Kona ONE longboard to Chad Perkins' Kona 11'5", which is a very similar board but lighter and without a daggerboard. Chad's board planed about the same as mine, but had a lighter and peppier feel and favored more of a small-board riding style.
I also did some wheelin' and dealin', buying a 430 cm "
skinny
" mast from Chris Coyne and buying a skinny extension from
Beach Sports
to go with it. Now I don't have any excuses for not charging in the waves and trying to loop (skinny masts are more resistant to breaking). I put my standard diameter 430 mast on consignment at beach sports (it's a good, cheap deal for a high quality mast if anyone is in the market), and also put a 50 cm powerbox weed fin and 46 cm trim box freeride fin on consignment.