**WARNING...
if you think the things I said about
gods
were bad, you might really hate what I have to say about
dogs
**
Since I'm a biologist, it's hard for me to truly dislike any particular type of animal. After all, every species evolved in response to natural selection, becoming charmingly suited to its own unique role in the environment. For example, the fearsome and cunning wolf, it's predatory and social instincts perfectly adapted to hunting and living in packs, is an admirable creature, indeed...
...lending its majesty to dark print t-shirts around the world.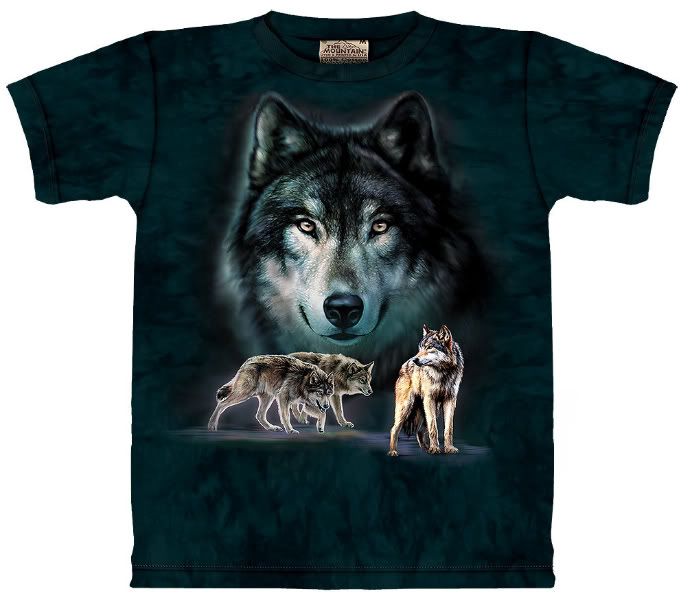 It's unnaturally-selected descendant, the domestic dog, not so much. Just as the dog's outward appearance has been reshaped by thousands of years of selective breeding, it's mind has also been warped from its natural state. Indeed, dogs' dumb affection and tame submission to humans is the result of selection for genetic mutations that cause them to stay in a juvenile psychological state. Far removed from the wily wolf, the dog is now a hapless and dependent creature that exists only to gratify the egos and quirky emotional needs of dog owners,
via
it's childlike love and loyalty, and its biproxy expression of the owners' aggression or vanity.
Since humans are responsible for creating dogs as we know them, I feel that humans ought to be responsible for their dogs' behavior. For example, when a dog menaces me with aggressive barking, or obnoxious pawing and licking, I consider the owner no less culpable than if he had molested me himself. When his stinky dog leaps in my lap or crowds me in the car, the stank of greasy hair and body odor might as well be coming straight from him, since he's the one that chose to have the dang dog.
...All reasons why I have chosen to satisfy MY ego and quirky emotional needs with a BLOG instead of a dog. This way I can fulfill my desire for attention and interaction with no smelly poop to clean up or expensive food to buy. :P