This weekend was cool because I got to do interesting water activities with my Florida friends.
Each morning started with scuba. On Saturday we had a great dive at Kimberly Bergalis Park, near my house. Here's my dive buddy Scott suiting up.
And here's my other dive buddy Jonathan cooling off in the water. Check out the total lack of wind and waves on the Atlantic. Jonathan took some underwater pictures and videos of our marine life encounters - hopefully he'll post them online so I can embed them in another post.
Saturday afternoon I taught some friends from out-of-town how to stand-up paddleboard on my Kona longboard. I think SUP is a good share-with-friends sport that isn't too hard the first time around. It might be a good back door into learning windsurfing for less gung-ho people, because it lets them figure out their board balance before adding the complication of sailing. Hmm...
The paddle I'm using for SUP is a cheapskate home-made affair. It's the head of a kayak paddle shimmed with duct tape, fitted into the aluminum rod from a pool skimming net, then duct taped some more around the outside of the joint. The handle knob (not pictured) is also duct tape. It's not pretty, but the price is right, and I was able to make two with one kayak paddle so Scott can go, too. If you're thinking about making your own SUP paddle, remember the length from the end of the blade to the top of the handle should be equal to your height plus about ten inches. Since I'm 5'10", my paddle is 6'8".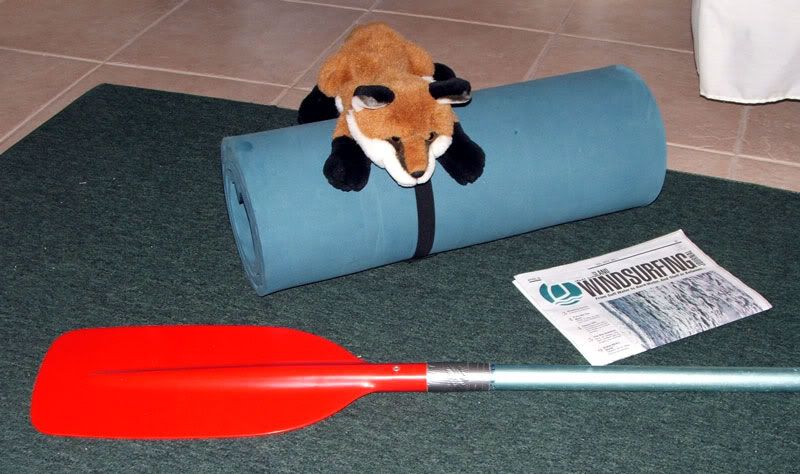 Red Green would be proud...
Later Saturday afternoon my jetski-owning neighbor Bill invited some people out for wakeboarding. Bill has never wakeboarded (he has a bad back) but he likes to tow people because he's a sadistic bastard... uh, I mean a generous gentleman. I found wakeboarding to be an intense mixture of scary, thrilling, exhausting, and painful. Kinda cool but not exactly my cup of tea. I'm more of the "ease into it at my own pace" kind of person than the "charge into it rough and tumble" kind of person.
The pinnacle of the weekend was finally getting enough wind for a planing windsurfing session on Saturday evening. A month ago I might not have hassled with rigging the 8.7 sail and the big yellow shortboard, but this time I was more than grateful for the opportunity. Awesome. :)
There wasn't any wind Sunday, but a dive session at Bathtub Beach in Stuart and another round of masochism behind Bill's jetski were enough to thoroughly satisfy my watersports quota.
Today I was responsible and worked until 6:30, but still got out for an amazing sunset SUP session at Fort Pierce inlet. I crossed the inlet to the North Jetty side, where the water was crystal clear and I could look down 15 feet to see snook, jacks, barracuda, and other big gamefish stalking around the rocks of the jetty. I even had a sweet, blue-planet style encounter with a giant manatee. He came RIGHT UP under the board and sniffed around it for about five minutes. I was crouching down on the deck, so we were like, face to face at water level. COOL! Actually, I think there were multiple manatees, because the close-encounter one had a series of prop scars on his back and the one I saw paddling back from the beach didn't. Next scuba dive will definitely have to be from the state park at North Jetty.