Sweetwater Paddlesports
in Bonita Springs is the SUP shop closest to my house. After my board was stolen earlier this week I asked them to be on the lookout in case the thief tried to pawn it off on them. They were very helpful, and in fact reported that a suspicious young guy had come into the shop after the theft, asking strange questions about the resale value of a paddleboard, and asking what was the "round thingy" on the deck. We figured he was referring to the windsurfing mast-base attachment still on my board.
So it didn't completely surprise me when Sweetwater called me again this afternoon, announcing that they had just seen the perp carrying my board towards the beach along the sidewalk across from their shop. Both they and I called the Bonita Springs Sheriffs, who zipped out to the scene and caught him red handed. The Sheriffs interviewed me on the phone to verify that they had the right board, then I drove out there to pick it up. The bad guy was still being interrogated at the scene when I arrived. Apparently he confessed, and now he's going to jail.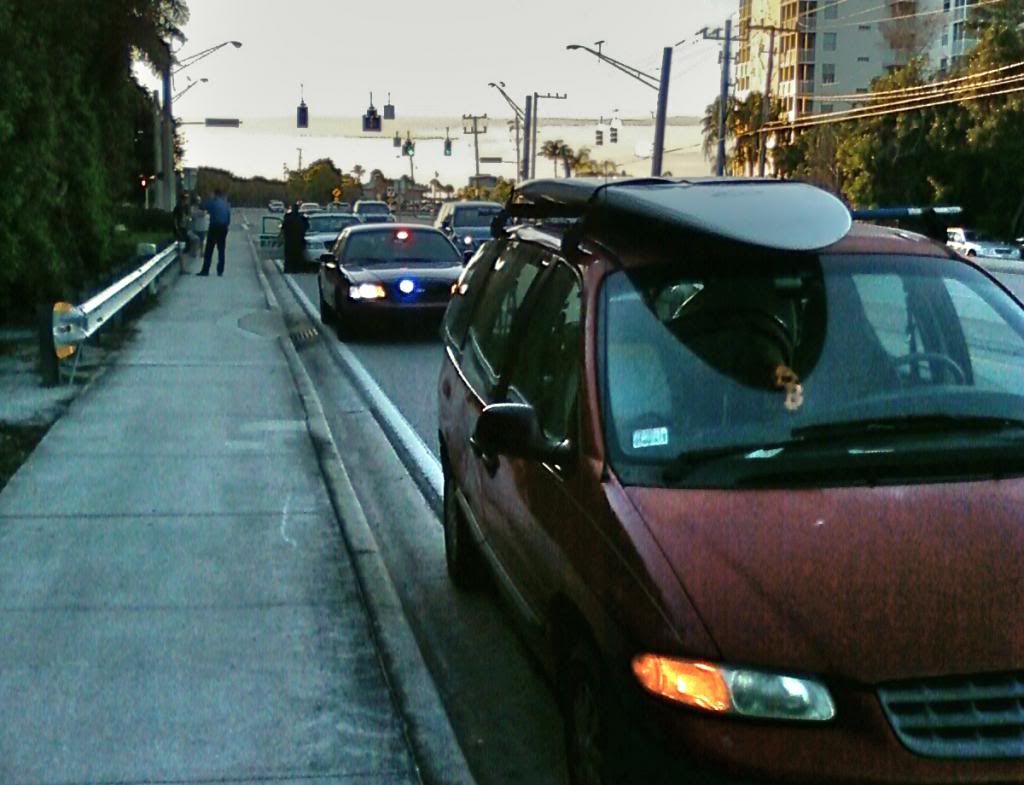 It was strange being right there 10 feet from the thief, although we didn't make eye contact or talk to each other or anything. In a weird way I felt sorry for him, just because he was so pathetic in that moment. I would have been more purely angry if he had been trying to sell the board, or vandalize it, but since he was on the way to try to paddle it I had just the tiniest bit of sympathy for him. I've had a wonderful life with lots of cool toys and ocean adventures. He probably has not. Maybe one day after he's paid his dues he'll make it straight and get to ride a SUP that he has actually acquired legitimately. Or maybe not. Whatever...