Last weekend I drove up to Cocoa Beach with some buddies from the
CGT
sup team to do a big paddleboard race- the "
Florida State Paddleboard Championships
."
Buddy Damon by the van before we drove up.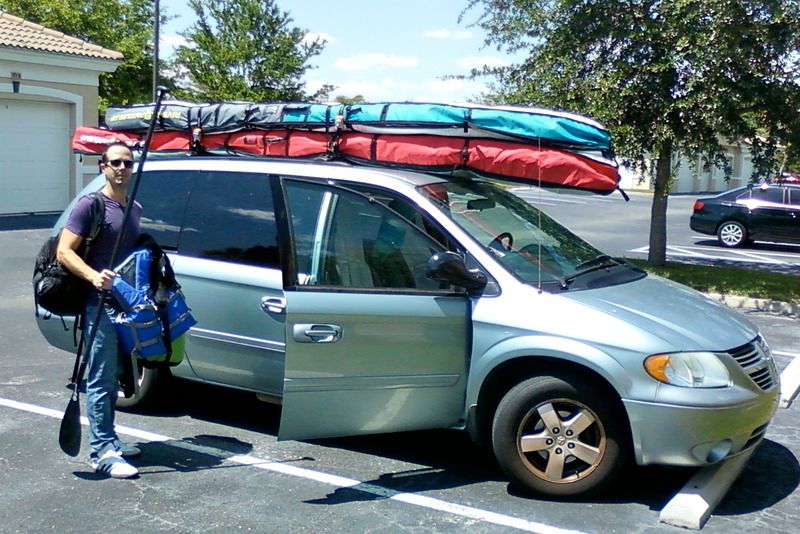 Running start.
Apparently the FSPC is the longest running paddleboard race in Florida, dating back to around the year 2000. Interestingly, in the year 2000 "paddleboard" meant the kind that you paddle with your hands while lying prone like a surfer. But at some point in the last 15 years the popularity of standup paddleboards (SUPS) eclipsed that of lie-down paddleboards, such that "paddleboard" is now synonymous with SUP, and we call the earlier thing "prone" or "traditional" paddleboarding. There were still a few prone paddleboards in the race this year, along with other unusual human-powered craft like outrigger canoes and super-long narrow kayaks called "surf skis." You can see how fast the different craft were in the race results. (The race was 5 miles long.)
TRADITIONAL PADDLEBOARD MEN OPEN
Ranking ,NAME, TIME
1, Jens Hoffman, 0:53:57
2, Daniel Prosser, 0:55:46
3, Michael O'Shaughnessy, 0:59:44
4, Jason Geiger, 1:10:57
TRADITIONAL PADDLEBOARD WOMEN OPEN
RANKING, NAME, TIME
1, Cynthia Aguilar, 1:02:59
SUP - MEN 18-49, 12'6' & UNDER
RANKING, NAME, TIME
1, Connor Bonham, 0:55:15
2, Jamie Twigg, 0:55:27
3, Abraham Wilson, 0:55:37
4, Andres Pombo, 1:00:11
5, Zach Rounsaville, 1:00:12
6, Jeffrey Berry, 1:02:01
7, Grant Begley, 1:05:40
8, Darryl Austin, 1:10:40
9, Damon Cooper, 1:16:53
10, Erik Thomas, DNC
11, Ryan Findley DNC
SUP - MEN 18-49, 14'
RANKING, NAME, TIME
1, Kieran Grant, 0:51:03
2, Garrett Fletcher, 0:51:42
3, Michael Tavares, 0:51:44
4, Brad Ward, 0:52:38
5, James Douglass, 0:55:17
6, Cristian Prado, 0:55:57
7, Barrett Hoard, 0:58:30
8, Chip Bock, 1:00:58
9, Kevin Hill, 1:01:02
10, John Beausang, 1:04:01
11, Christian Grause, 1:06:05
SUP - MEN 18-49, UNLIMITED
RANKING, NAME, TIME
1, Patrick Klemawesch, 0:51:54
2, Zach Bankhead, 0:59:09
SUP - MEN 50-59 12'6"& UNDER"
RANKING, NAME, TIME
1, Mark Athanacio, 0:56:20
2, Mark Preece, 1:18:54
DNC, Bruce Wall
DNC, Walter Bunso
DNC, Hal Atzingen
SUP - MEN 50-59 14'
RANKING, NAME, TIME
1, Brian Hovnanian, 0:57:12
2, Danny Smith, 1:01:18
3, Keith Cook, 1:05:59
4, David Rush, 1:14:41
SUP - MEN 60+, 12'6" & UNDER
RANKING, NAME, TIME
1, Albert Chicra, 1:14:46
SUP - MEN 60+, 14'
RANKING, NAME, TIME
1, Rand Perkins, 0:53:39
2, Rick Dean, 1:04:05
3, Alan Montgomery, 1:07:02
SUP - WOMEN 18-49, 12'6"& UNDER
RANKING, NAME, TIME
1, Victoria Burgess, 0:59:32
2, Kristin Apotsos, 0:59:45
3, Francesca Morrow, 1:04:17
4, Meg Bosi, 1:07:33
5, Corrine Banks, 1:08:01
6, Monica Arche, 1:09:26
SUP - WOMEN 60+, 12'6"& UNDER
RANKING, NAME, TIME
1, Beth Winkler, 1:16:18
SUP - WOMEN, 14' WOMEN OPEN
RANKING, NAME, TIME
1, Kate Pagan, 1:08:28
2, Laura Siljestrom, 1:17:38
SUP – JUNIOR MEN
RANKING, NAME, TIME
1, Connor Rush, 0:56:51
2, Conrad Garcia Jr., 1:04:25
3, Peyton Thomas, 1:14:45
SUP – JUNIOR WOMEN
RANKING, NAME, TIME
1, Annette Garcia ,1:05:38
OC-1 Men Open
RANKING, NAME, TIME
1,Wendell Martin, 0:53:03
2,Conrad Garcia Sr., 0:55:36
Surfski Men Open,
RANKING, NAME, TIME
1, Reid Hyle, 0:39:26
2, Josh Ashley, 0:47:45
3, Brent Robitzsch, 0:49:01
I paddled hard and I was very happy to get 5th place in the 18-49 age 14' sup class. Seeing the really good paddlers at work was inspiring, too. Two fast people from "slower" classes finished ahead me- Rand Perkins in the 60+ year old class, and Connor Bonham in the 12'6" board class. Rand got a slow start but passed me on the downwind leg of the race. I briefly caught up with him at the halfway buoy turn and tried to draft him on the upwind leg. It sort of worked for a little while, but then he turned the speed up and I couldn't stay in his wake. After that I just tried to keep a steady pace.
63 year old Rand Perkins at the finish line. Wow.
I wasn't paying attention to who was behind me in the latter part of the race, but right when I rounded the buoy to head for the beach finish I noticed that one of the 12'6" sup racers, Connor Bonham, was catching me. I didn't have the wherewithal to put on a final sprint, what with being really tired and having to undo my leash and concentrate on surfing a wave in. I got to shallow water and jumped off my board around the same time as Connor, but my legs were crampy jello sticks when they hit the sand, and Connor zoomed ahead of me, finishing in 0:55:15 to my 0:55:17. I'll have to practice those running dismounts before the next ocean race.
Surfing a wave in.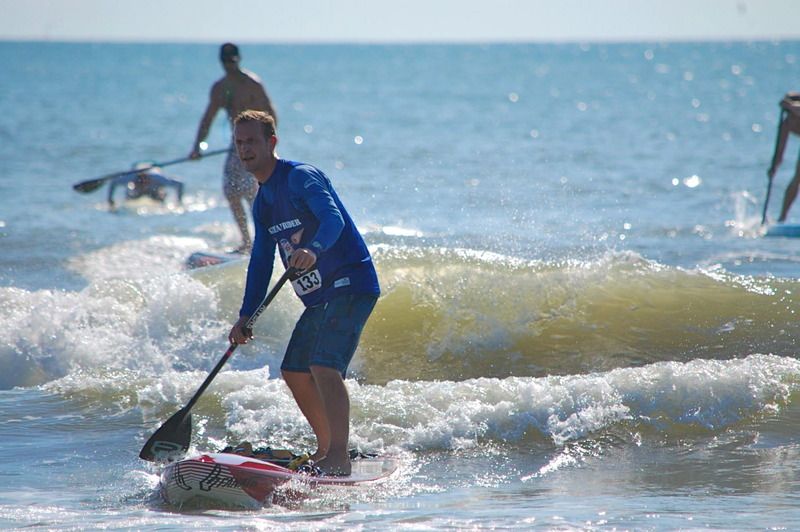 Far outclassed in the footrace.
It was fun to be there with my new friends from the CGT Race Team. I drove up with Damon Cooper, who put in a very impressive performance for a novice by finishing the course on a heavy 12'6" x 32" non-racing SUP. Also he won a $429 carbon fiber paddle in the raffle. Lucky! Kevin Hill was just a few minutes behind me on his Laird Hamilton 14' race sup. Kate Pagan got first place in the womens' 14' class. Meg Bosi went even faster on her 12'6" sup but got 4th place in her class because there were some other very fast women racing 12'6" boards.
Meg and Kevin.
Besides the racing, we did some surfing with our raceboards. The first surfing stop was actually on the drive up on Friday afternoon. Damon and I stopped at my old haunt of Fort Pierce Inlet State Park. I caught a few on my 14' Fanatic Falcon, but actually had the most fun borrowing Damon's 12'6" Riviera Voyager. Damon got some good pictures like the ones below.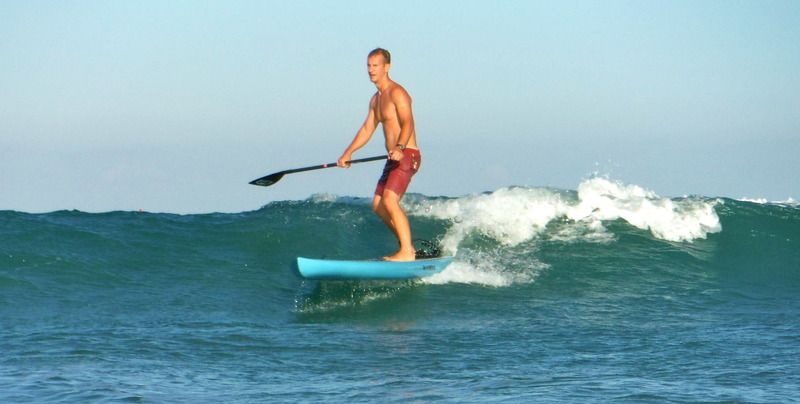 The surfing after the race on Saturday was a different experience. The waves were even better- glassy with no wind on them, but the beach was quite crowded with everyday beachgoers and surfers plus folks watching a surf contest. You had to weave around people, which is tricky on a 14' board. I was actually really pleased with how my 14' Fanatic Falcon surfed, though. My previous attempts to surf it in, in choppy short-period in the Gulf of Mexico, were pretty challenging and frustrating. But the bigger, smoother, longer-period waves on the Atlantic side actually made it easier. The board has "reverse steering" until it gets up to speed, but once your going, and you get back on the tail of the board, it handles more like a normal, albeit huge, surfboard. The song in the video is by the Chemical Brothers.
Cocoa Beach SUP 4-4-15 from James Douglass on Vimeo.