Left to right Donna Catron, Mark Payne, Justin DiGiorgio, and Jen Hayes blast off the starting line in the second batch of racers released.
On Sunday, December 14th, CGT Kayaks and Paddleboards hosted the first paddleboard / kayak race of their winter series. The course was a little different from the one in the summer series- it was only 5.1 km as opposed to 6.9 km. Everyone seemed to like the new distance. A few of the regulars from the summer series couldn't make it- Devin Turetzkin had the flu, and Matt Kearney was supporting his wife who was running a marathon -but the race was nevertheless well attended by a mix of new and veteran SUP racers.
These are the results in the format of Name, Class, and Time:
James Douglass 14' SUP 0:34:28
Mark Athanacio 14' SUP 0:34:29
Mark Hourigan 14' SUP 0:35:31
Murray Hunkin 14' SUP 0:35:59
Justin DiGiorgio 14' SUP 0:38:05
Kate Pagan 12'6" SUP 0:39:56
Mark Payne 14' SUP 0:41:11
Meg Bosi 12'6" SUP 0:41:27
John Weinberg 14' SUP 0:42:21
Jen Hayes 12'6" SUP 0:43:09
Beth Schadd 12'6" SUP 0:44:01
Damien Lin 12'6" SUP 0:45:42
Donna Catron 12'6" SUP 0:46:11
Saralane Harper 14' SUP 0:46:19
Joseph Gladieux 12'6" SUP 0:51:49
As you can see, I won, but just barely, and 3rd and 4th place weren't far behind. This is big change from the summer race series, where Mark Athanacio and I were always close together at the top, but there was a big gap between us and third place. Who are these upstarts threatening our hegemony?
Mark Hourigan- Mark H. is 55 years old, the most senior racer after Mark Payne, but he's obviously very fast. I think the main reason is because he has been committed to race training and fitness, and he has gotten incredibly buff. Most 20 year olds would be jealous of his physique. Also, Mark just switched from a 27" wide Yolo board to a 25" wide Riviera board. In fact he bought the very board that I used to win most of the summer race series, the white 14x25 Riviera RP in fiberglass construction (see below). I have to admit I was kind of jealous to see another guy on "Whitey," but I'm scheming to get a board upgrade that will put me ahead of the curve again. More on that later.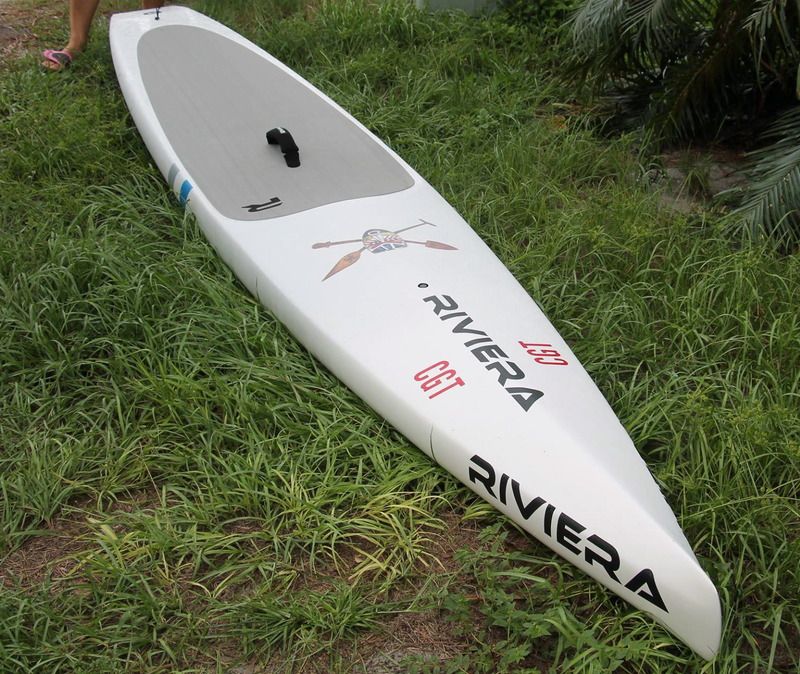 Murray Hunkin- Murray is a 49 year old long-time kayak racer and rugby player from South Africa who has switched to SUP in the last year. He's big and strong at 100 kg and he knows about race strategy and hard-core training from all his high-level kayaking. In the summer series we didn't worry too much about him because he was too busy training for a kayak championship to be fully dedicated to SUP. But lately he has been 100% into SUP and getting pretty darn good. Murray has also switched to a fast Riviera board- a 27" wide aqua-colored one of the same vintage as Whitey. The board has about 300 liters of volume and is clearly a better fit for Murray than his old ~240 liter board. Though Murray can somehow balance in a kayak as narrow and round as a telephone pole, balancing on a SUP, especially when turning, is his one remaining weakness.
Murray Hunkin the African riverbeest on his new 14'x27" Riviera RP.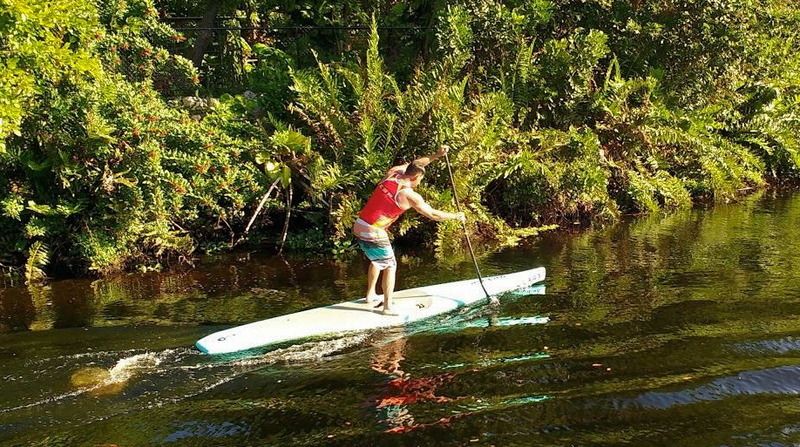 How the race went: Because the Imperial River is too narrow to put all the racers in at once, we started in groups of four, chosen by the racers. Mark Athanacio, Me, Mark Hourigan, and Murray figured that we would be the fastest, so we made the first group. Technically it's doesn't matter which group you start in, because your time is calculated as your end time minus your start time, but if you want to use "drafting" to your advantage it's best to start with other racers who are close to your speed or faster. I wasn't sure how fast I'd be because I was on a borrowed board from the shop. It was a
14x25.5 404 v3 carbon
with a nice "
Stavron
" fin. It felt great when I test rode it Thursday- very stable and, in terms of speed, not far behind the slightly narrower and pointier "Whitey". When the starting horn blew I put in a pretty good sprint and over 100 m or so the other guys got into my draft. I kept a fast pace but, unlike in previous races, I didn't shake anyone off. After about 1500 m we hit the first turn-around, the so-called "frankenbuoy" with a shrubby mangrove sprouting out of it. The 180 degree turn was a little dicey, and Mark Athanacio moved up to 2nd in the draft train by cutting it narrow when Murray and Hourigan went wide. Murray had lost the train and was sprinting to catch up when he fell off his board, which basically ensured that he wouldn't catch us. I was getting tired from leading the train and Mark Athanacio probably knew it. He said, "If you're getting tired from pulling, tell your boys they need to take a turn." So I said, "Boys, take a turn!" and we slowed down a bit to let Mark Hourigan into the lead. After a little while of egging Hourigan on to sprint as fast as possible, Mark Athanacio took his turn leading, with me in the middle. We were like that when this picture was snapped in the middle of the race.
On the upriver part of the race I started leading again, and Mark Hourigan dropped off the train because of all the bendy curves of the river. Athanacio asked if we wanted to let him catch up and I said, "No, just you and me now." I was tired, but I was scared that if I let Athanacio lead the train again I'd never be able to pass him, so my plan was to try to stay fast and stay in his way, and not fall, for the rest of the race. I did a pretty good turn at the upper turn-around of the course, one of the pilings of the bat-infested Matheson Bridge. I didn't know it until later, but Athanacio said he used a cool trick at the turn of resting the nose of his board on the tail of my board so my board helped pull him through a fast turn with no extra energy spent. Anyway, I definitely did NOT shake him off at the turn like I was hoping I might. On the final leg Athanacio told me I was going to question whether leading the draft train for most of the race had been a good idea. I was definitely questioning it, especially when Mark moved out to the side of me a bit like he might be trying to pass. I upped the speed and got in his way as best I could, although I think if he'd REALLY wanted to pass me he probably could have found a way to do it. Around this time I was getting very, very tired, and my heart rate was up over 190 bpm, but I knew if I slowed down Mark would pass me in a flash, so I kept moving. Also, my wife Rhonda had shouted when I was passing the mid-point, "Finish first or don't come home!" and just in case she wasn't joking I wanted to finish first. In the end I finished one second ahead of Mark Athanacio,
too close for comfort
.
Exhaustedly finishing just a tiny bit ahead of Athanacio. He was probably going easy on me. ;)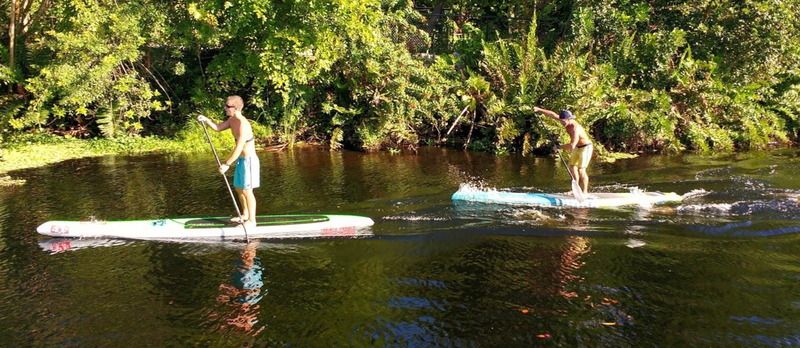 It's clear that from now on the local races are going to be much more interestingly competitive, with any of the top 4 probably capable of winning, given the right luck and strategy. The competition is also pretty hot in the other board classes, with Kate Pagan setting a new standard for speed in the womens' 12'6 class, with Meg Bosi and Jen Hayes not far behind. A trio of rookie racer women- Beth Schadd, Damien Lin, and Saralane Harper (Murray's beau), are also looking strong. Even last place rookie Joseph Gladieux finished in less than an hour, and probably got a heck of a workout. I hope everybody is back again for the next race in the series on Sunday January 3rd.
Womens' winner Kate Pagan.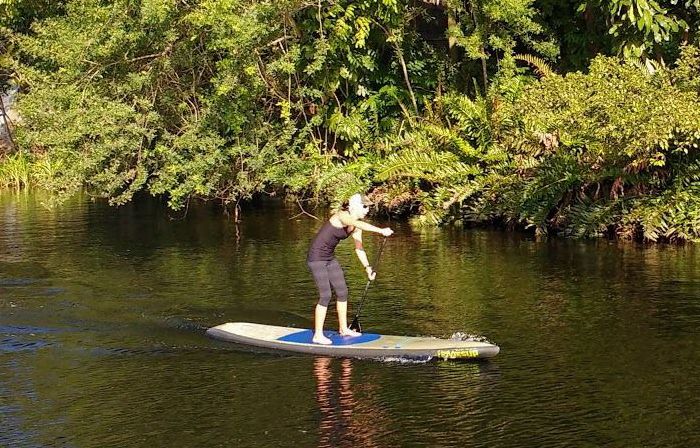 Local veterinarian Damien Lin has a rowing background and has real good SUP form for a rookie. She seems to be hooked on the sport and should only get faster in the coming races.