**UPDATE - The death race has been postponed until next weekend, December 13-14.**
Original post-
Windsurf racing is fun because it involves individual, man-vs-wild type challenges in addition to the peer-to-peer competition you have in all sports. Sometimes just finishing a race is victory enough, even if you place last.
I think that will be the case in the
2008 Inlet to Inlet Race
taking place next weekend in Fort Lauderdale.
It's a 23 mile round trip from Port Everglades Inlet to Hillsboro Inlet, as the seagull flies. As the windsurf tacks, it could be significantly farther, depending on the wind direction. Also, the sailing will be way the heck out in the ocean, in offshore winds, with the competitors perhaps not even within sight of one and other. We're all supposed to bring cell phones in waterproof cases in case we can't finish and have to be picked up from the beach somewhere in no-mans land, or worse, break down and can't even get to shore.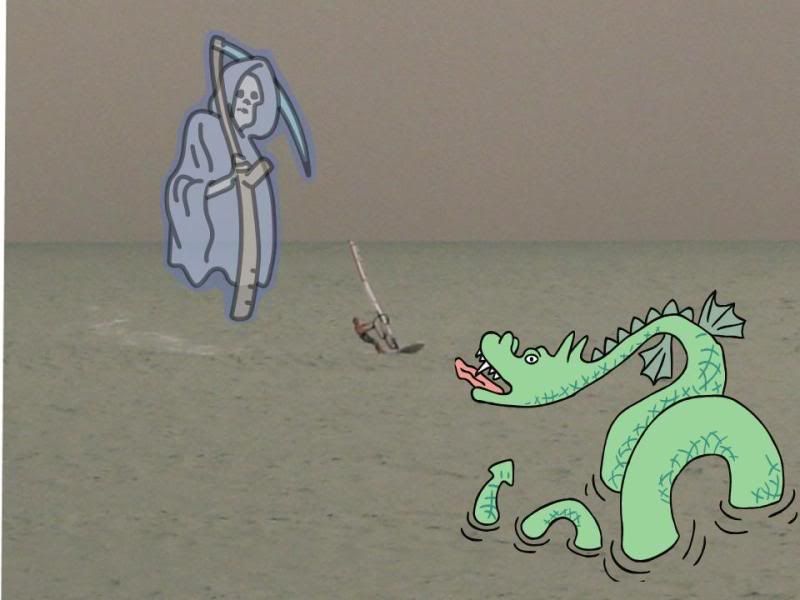 The forecast is for 5-10 knots NW on Saturday and 10-15 knots NW on Sunday, so the race will probably be held Sunday with Saturday as a practice. I'll ride my Kona ONE longboard with a 7.8 meter squared sail. I think most of the other competitors will be on formula boards, so if the wind holds up they will finish much sooner than me. The record course time, set by race organizer Ron Kern, is 1:12 - 21 mph average speed! This year it will probably take everyone a lot longer.