Yesterday I drove up to South Carolina for a family Christmas at Edisto Island. I awoke this morning to 20 knots of SW wind, and ended up getting a good session on my smallest board (87 liters).
That really scratched an itch for me, since I hadn't sailed the little board, at least not for a full-on session, since
early fall
. There just weren't many, if any, 20+ knot wind days in East Central Florida. At least not many that occurred while I was there, healthy, and able to "adjust" my work schedule, which was most of the time.
I think it's because where I live in Florida is in the so-called "Horse Latitudes"; a region of crappy wind between the Westerlies of the temperate zone and the Easterly trade winds of the tropics. The region is also called the subtropical high, as shown on the global wind patterns map below.
Wikipedia
explains it better than I could.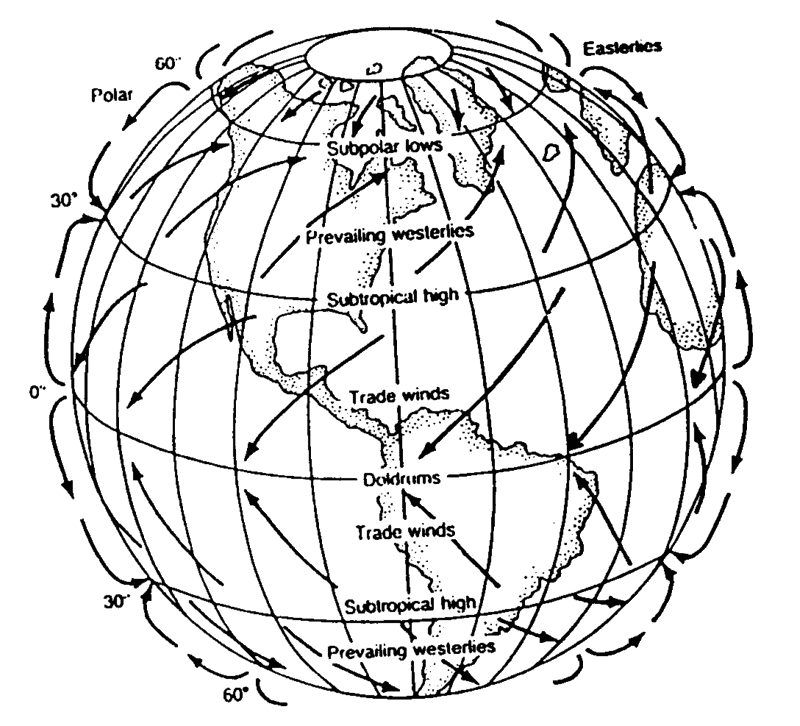 I haven't seen this written, but I think that where the Horse Latitudes are located varies with season and with shorter term weather patterns. I.e. in the summer, Central Florida might usually be below the HL, and thus get more Easterly trade winds. And in the dead of winter, it will (hopefully) be enough above the HL to get more Westerlies and frontal systems. We'll see.
BTW- Does anyone know where I could find wind statistics for Central Florida? I know the (excellent)
New England Windsurfing Journal
publishes average wind stats for various locations from Cape Hatteras - Cape Cod, but I don't know of anything similar for Florida.