Last weekend's "
Inlet to Inlet
" long-distance windsurfing race, organized by Ron and Sue Kern of Fort Lauderdale, was the first race I ever did in Florida. Not only was it a great challenge, but it was a great introduction to the groovy community of sailors in South Florida.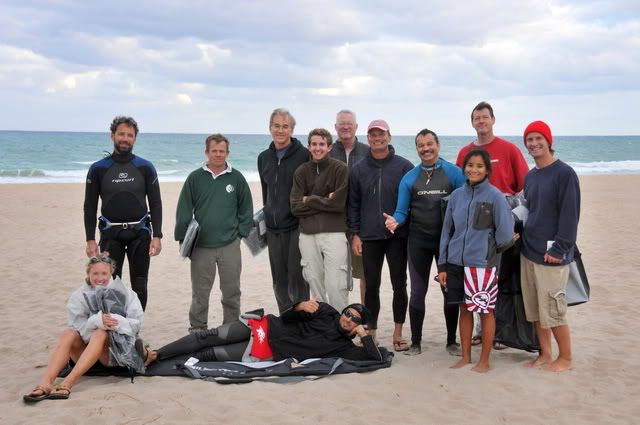 I almost didn't make it down from Fort Pierce because of car troubles. As it was, I limped into the Fort Lauderdale Beach parking lot with the battery light flashing and a weird humming coming from the dash. I scrubbed the battery terminals and tried to put car-anxiety out of mind to make room for race anxiety.
There were 19 other competitors at the beach, mostly
formula racers
, but with Mike Rayl on a Kona longboard (like me), and Beth Powell on a mistral one-design longboard. The winds were light from the NNW at first, but at noon they clocked around to NE and surged to a generous 20 mph. The chop and waves also swelled to formidable size. Amidst the pre-race excitement I realized I'd forgotton my harness back in the shower at home. Damn! Luckily,
Alex Morales
, who is famous for escaping from Cuba on a windsurf, lent me one, and
Peter Ifju
, a famous University of Florida professor and high-tech fin maker, lent me a harness hook.
I set up my Kona with the 46 cm stock fin, and rigged a 7.8 Aerotech Air-X, which is currently my largest sail. I left the footstraps in the inboard position where I keep them for freeriding / waveriding, but tightened them a lot to put my heels further out on the rail. I screwed two u-joints into the mast track in case one broke and so I could switch the position forward or backwards depending on conditions.
Getting out through the breaking waves was tough, especially for the formula riders with their long fins that would snag on the sandbar. About 50% of the attrition occured during that stage, before the race even started. Poor
Farrah Hall
had a brand new 9.0
KA
formula sail rigged but broke her mast in two places and was really bummed that she didn't get to race. I think something similar happened to her Olympian rival,
Nancy Rios
, who had rigged her RS:X Olympic board and sail. I got off the beach ok, but immediately had control problems with my sail because one of the boom cuffs was slipping. I jumped off in the water and fixed it, but was still jittery and uncomfortable using my big gear in the heavy conditions.
Once away from the chaos of the starting line I got a better feel for the conditions and my gear, and got dialed in to the routine of taking long tacks upwind towards the barely-visible Hillsboro lighthouse. The surviving formula sailors were way ahead, but I was close with the other longboard riders, whose presence motivated me to keep pushing. I'd never before raced a Kona in conditions where sailing without the daggerboard was the most efficient way upwind, but it seemed to work pretty well in the strong breeze. I started to get ahead of Mike, but Beth was blazing a high-line with the daggerboard down on her raceboard, and she pulled away from both of us.
Getting to the upwind mark was actually kind of fun, working past row after row of cartoonish hotels and condos, and watching flying fish scatter away from the crashing bow of the Kona board. Finally, I rounded the Hillsboro Inlet marker, jumped off to move my mast base all the way back, then went barreling downwind. The waves were really getting huge, and when you were sliding obliquely down a swell the acceleration from both wind and water power was crazy. I saw Beth Powell struggling not far south of the Hillsboro marker and gleefully zipped past. Mike Rayl caught up with me, and we traded places a few times as each of us fought fear and fatigue to stay speedy. Eventually, I opted for a slower, deeper downwind line with my back foot in the leeward strap, and watched Mike dissappear ahead of me and further out to sea. That helped me rest my legs and stay in control, but I still had a couple of oh-shit moments coping with the lumps and bumps out there. I found the Port Everglades Marker right where it was supposed to be, 11.5 miles South of the Hillsboro Inlet marker and about 2 miles from shore. I rounded with relief, and made the final beeline for the beach. A bunch of guys jumped into the water to help save my gear from destruction in the break, thank goodness. Onshore I learned I was the fourth finisher, having somehow made it past Mike on the downwind. Mike arrived a few minutes later, but said he had been really smacked-down by the conditions far offshore and had opted to come straight in instead of rounding the Port Everglades buoy. That meant I was 4th overall and the only longboard rider who finished the whole course. YES! The good vibes continued though the prize-giving ceremony, the miraculous temporary recovery of my car battery, and the sweet pizza party at Ron and Sue's house. Woo hoo!
I'll definitely be back.
Full Race Results and Times:
http://www.ronkern.com/2008_Results.htm
...