STOKE! Today I got to do something I have dreamed about ever since I got my first issue of
Windsurfing Magazine
in 2002; I got to be in a board test! I'm not allowed to say what I thought about any of the particular boards. So if you want to know which ones are "WOOHOO!" and which ones are "meh...", you'll have to subscribe to the magazine.
I AM allowed / encouraged to write about the general experience and post pictures and stuff, so that's what I've done in this post...
The tests are run at the
Banana River Resort
(hereafter the "BRR") in Cocoa Beach, which is right on the Banana River Lagoon (hereafter the "BRL"). The lagoon setup is a lot like North Carolina's Outer Banks, except that the sound it isn't quite as wide - you can see the other side. The BRR is a charming, small hotel / campground / windsurfing school / commune.
It was abandoned for a couple years, but recently reopened under the dual management of Karen Marriott and Dominique Vallee. Dominique is a French-Canadian Olympic contender who is a pretty, amazing windsurfer. When an ultra-windy squall hit in the middle of the already-very-windy day, most people got blown off the water. I didn't even want to go out on my 5.2 and waveboard. It felt like 3.5 conditions. But Dominique grabbed a 5.0 and somehow held it together in the blast.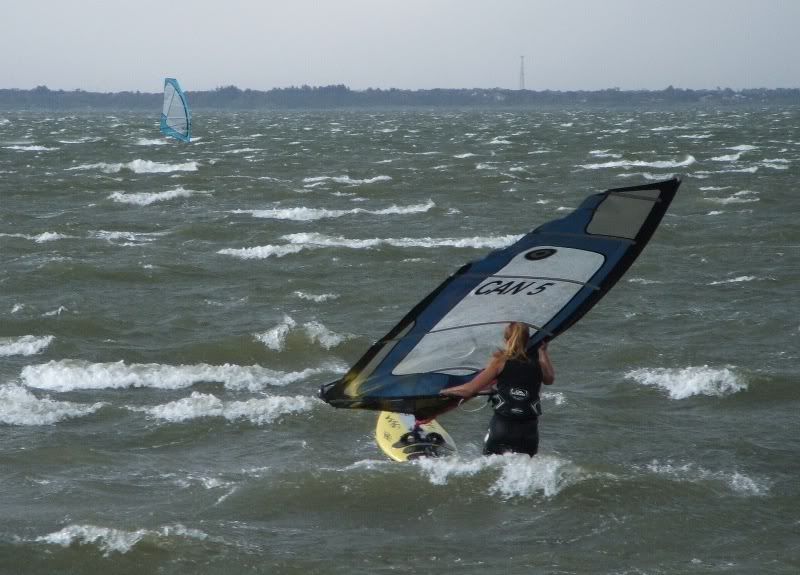 In the second picture you can really see how she's maximizing the leverage of her petite body against the sail. Dang.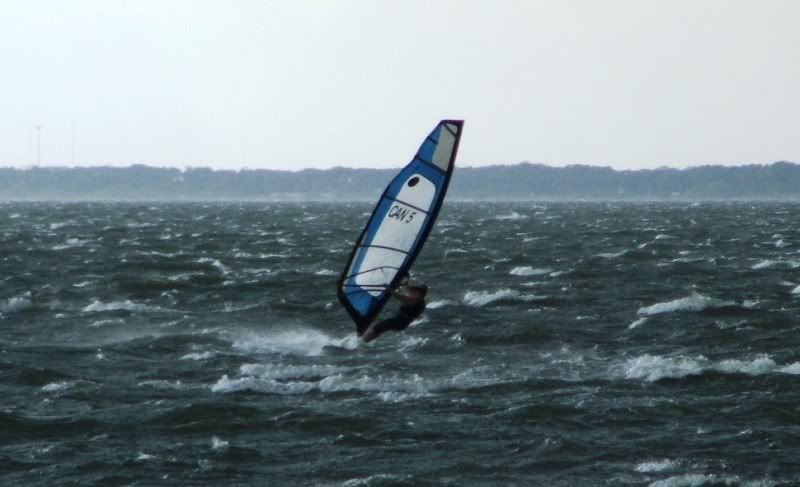 It was ironic that we were supposed to be testing big boards for light and medium winds, because the first half of the day was so windy most of us were scared to ride any board bigger than 100 liters. Only the expert, heavyweight speed demons John Ingebritsen and Steve Gottlieb did much testing until early afternoon when the wind backed off. I have probably never seen anyone windsurf as fast as they were going. Dang.
Eventually the conditions were good for the boards we had to test, and I rode a bunch of them, always with the same 7.2 sail to keep things fair. We were testing 110 - 125 liter shortboards, and extra large shortboards around 140 - 160 liters. It was interesting to see the differences, even within one genre of boards. Definitely some cool stuff out there. Also, it was fun to ride big, "freeride" shortboards again after not having had that type of board in a while.
Windsurfers who get hooked on sailing in waves or doing tricks tend to scoff at those who just do back-and-forth freeriding on flat waters, but the simplicity of freeride windsurfing is deceptive. There's actually a great art to "dialing in" the speed and performance of a freeride board. The feeling of speed and the power of board, sail, and fin working in harmony is all you need, really. That and maybe the ego boost of blasting by your buddies once you're dialed.
I didn't get to ride all the boards, but the test period goes for another couple months, so I'll be back a few more times. Life is good.
PS- Thanks Clyde G. for the photos.