I had a great Christmas break with my family in Asheville, NC, then later in Hudson, NH with my in-laws. I made a point of exercising a few times during my 10 days away, in hopes that it would keep me fit for SUP racing. My mom and sister are both "Zumba" dance-aerobics instructors, so naturally part of my exercise was practicing some moves with them in kitchen at my parents' house. I'm a pretty bad dancer, but by my standards I felt like I was doing alright.
Wife and daughter tutoring son in Zumba on morning after Christmas.

Posted by Johnny Douglass on Saturday, December 26, 2015
Shortly after returning to Florida
I did a local SUP race
on my Fanatic Falcon 14 x 24.75" board (which is
for sale
), and just managed to squeak out a win over fierce competitor Mark Athanacio. That may be the last time I race on the Fanatic, because I now have a NEW BOARD. Actually, it's only new to me- I got it secondhand from "fastest in Florida" sup racer Garrett Fletcher.
This is a picture of Garrett riding the board in a race last summer. Now Garrett is sponsored by a different board brand,
Yolo
boards.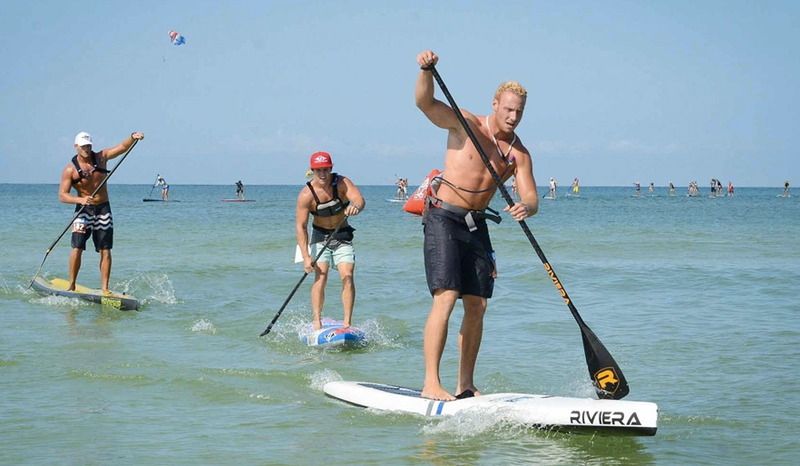 The board is a custom carbon Riviera, 14' x 23.75" and very light around 9.5 kg. I'm calling it "Fletchy" after the previous owner. Fletchy has a few little scratches and dings on it that have been repaired, but overall it's in pretty sweet condition. I paid $1500 which I felt was a fair deal. I need to make sure I take good care of it by always transporting it in the board bag. (The black bottom heats up in the sun and could get warped if I'm not careful.)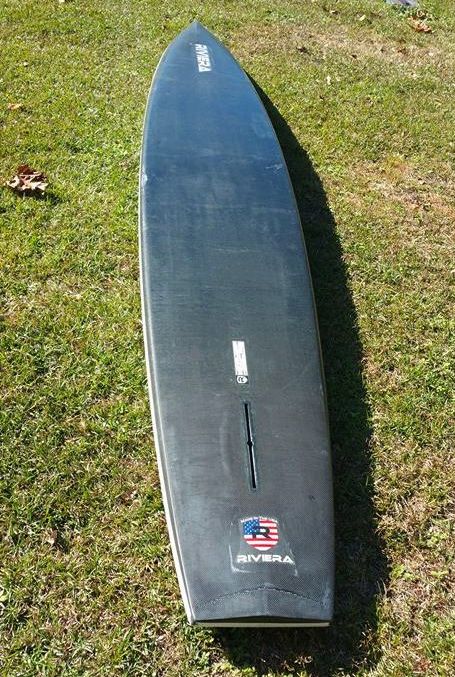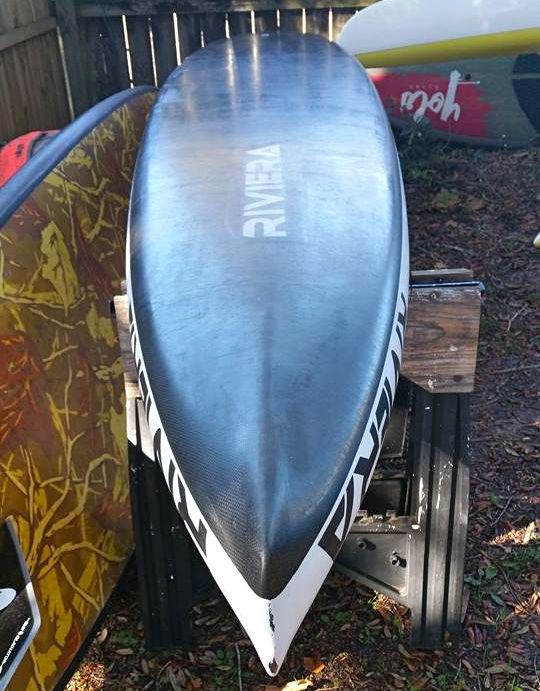 So far I have paddled Fletchy three times: twice in the Imperial River and once going around Lovers' Key.
The first time in the Imperial River I used it for one of the
CGT
team's Tuesday "intervals" workouts- 6 x 800 m with 3 minute rests. It was a windy day, the water in the river was low, and I often tangled with my teammates, overhanging tree branches, etc. Unsurprisingly I didn't get any personal best times (I keep track in a spreadsheet so I can compare). But I did get one 800 + 800 in under 10 minutes, which is a great for me, so I could tell Fletchy was fast. The light weight was also apparent, especially when accelerating or doing a turn. I think the wind blows Fletchy around more than a heavier board, though, so I'll have to adapt to that. Compared to the 14' x 25" Riviera that I used to ride (Whitey), 23.75" wide Fletchy is less stable, but hopefully still stable enough to handle any water conditions. Compared to Whitey, Fletchy has more rocker, meaning the nose rises off the water a bit when paddling hard. The extra rocker should help in rough water by encouraging the board to bob over waves rather than burying into them. Fletchy's nose is also a little wider and more voluminous than Whitey's needle-like nose, which may also help in rough water.
The second time in the Imperial River we did 3 x 2000 m intervals. We control for the upriver/downriver factor in those intervals by doing a hairpin turn and reversing direction at the 1000 m mark. The first one we did at moderate warmup pace, 14:39, 8.19 kph. The second one I went all out and got a personal best 12:26, 9.65 kph. Fletchy has great glide and seems to reward long-reaching, powerful strokes. On the last one I gave Devin Turetzkin a headstart and tried to reel him in. Although I caught up with him relatively easily, he switched into competitive high gear when he saw me, and held me off for quite a while before I could squeeze around to finish in 12:38, 9.5 kph. Devin certainly lives up to his nickname, "Revin Devin," which he acquired as a professional jetski racer in the 1980s. PS- he was riding a 14 x 25 Riviera similar to Whitey but with a bit more rocker.
By the third time I paddled Fletchy I knew it worked great for short-distance flat water stuff, but I didn't know if it would be fast over longer distances with varied water conditions. So I was happy for the opportunity this morning to do a Lovers' Key rounding (9 km in Estero Bay and the Gulf of Mexico) with the CGT team. The forecast had been for moderate south wind, but it ended up being a very light breeze with pleasantly cool fog. There was gentle 1' swell on the Gulf, some weird chop and standing waves created by current in the inlets, and the usual assortment of boat and jetski wakes in Estero Bay. But overall the conditions were quite smooth- glassy, even. They were good conditions to see if I could beat my personal best for the rounding, 59:20, 9.03 kph, set on Whitey in November. As it turned out, I beat the time by over two minutes today, getting 57:15, 9.38 kph. Yippee!
I think I have a great board. Now I need to focus on becoming a great paddler. Next weekend is a long race in Melbourne, FL, the "
Neptunalia Challenge
." We'll see if I can keep up with the fast paddlers there.