Sunday was the second and final day of the 2009 Central Florida Windfest at Kelly Park. The wind was a little light, at least in the morning, but the weather was great.
Since the breeze was slow to kick in, we lazed around for a while and I took some pictures of the various gear oddities on the beach. The Exocet formula board, nicknamed "the black machine" by racers, was there, along with a prototype for the next edition of the b.m. Apparently three prototypes of the new edition were tested recently at Calema windsurfing. All were somewhat better than the b.m., but the particular one that Exocet left with Calema was the least better, if that makes any sense. The only difference I could see about it was a wider, thicker nose with sort-of a shovel-like bevel all around.
There were some homegrown Florida innovations in the formula class, like the fins and booms designed by racer Peter Ifju. This very wide, angular boom is apparently more ergonomic and gives the rider more leverage to hike out. The fins are apparently competitive with the ones Dave Kashy makes and sells for well over $1000 each. I don't know if Peter will try to make a business of his fins, or just keep it a hobby. He's also a university professor, so he's probably pretty busy.
Here's Peter Ifju (left) and Loic Legallois (right) the Frenchie racer.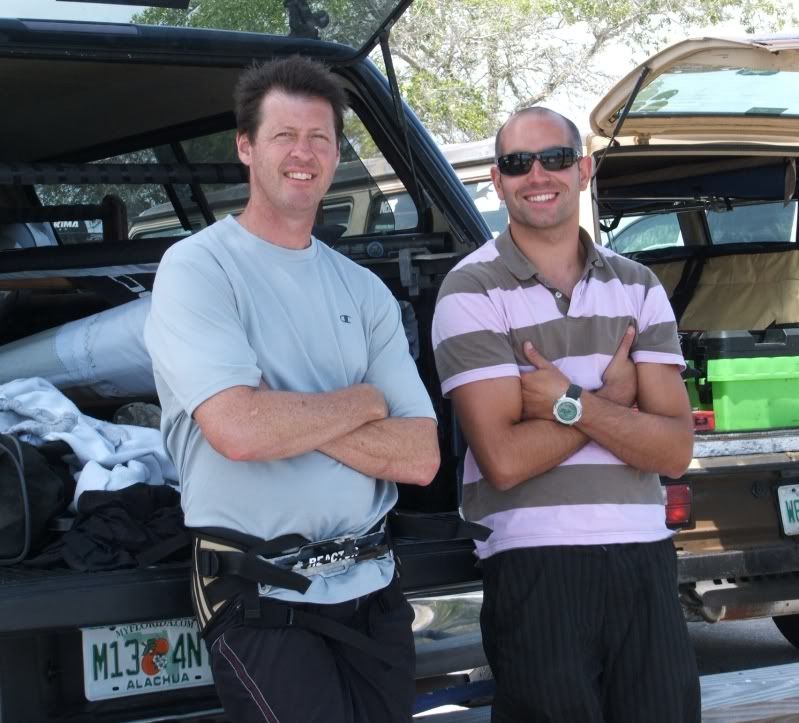 The wind came up around lunchtime, so the race committee set a course for long-distance racing. The winners were the same as during the previous day. The Kona class was won by a junior named Austin, and the formula was taken by Loic. Ron Kern wasn't that far behind Loic, though. I was third to last in the Kona class. I could have done a little better if I had made fewer tacks and planned the tacks I did make to align better with the wind shifts. Experienced racer Tom Ingram is almost exactly the same weight as me and he wasn't far behind the lightweight kids, so I know I can do better. I'm definitely looking forward to more Kona racing.
Here's a picture of my Kona rig setup with the 7.4 one-design "Zenith" sail.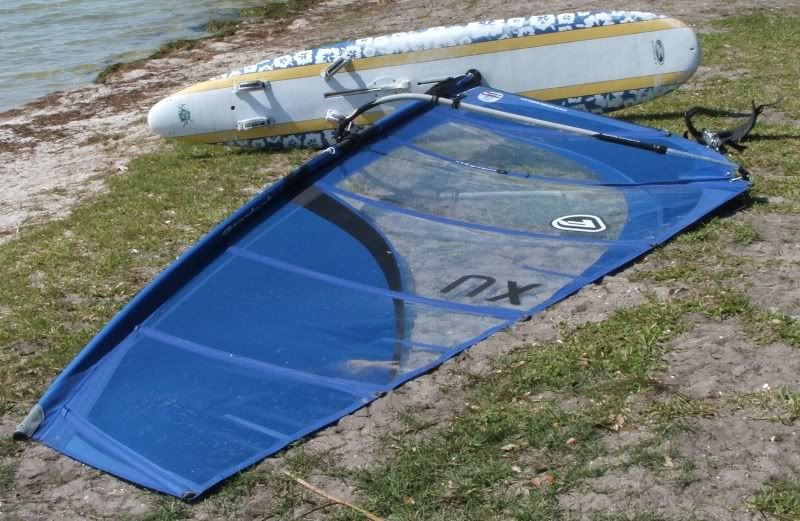 Here's Calema Windsurfing owner Tinho Dornellas taking a stand-up paddleboard spin on John Ingebritsen's Kona 11'5" pro-edition board.
And here are some of the Fanatic brand boards that Tinho sells.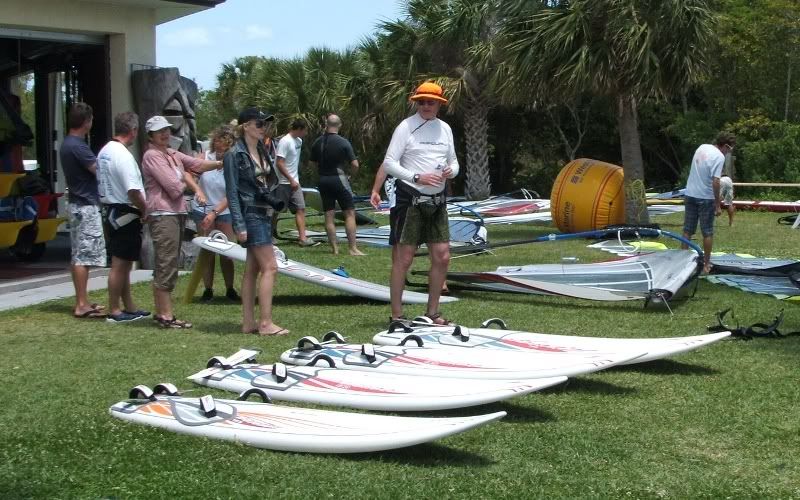 Don't forget next Saturday is another windsurfing event: the
Stuart Spring Fling
.