Wow, two weekends in a row of windsurf racing! Last weekend was the Central Florida Windfest at Kelly Park, with formula class and kona class course racing in 10-15 knots. Yesterday was the Stuart Spring Fling at the Stuart Causeway, with downwind slalom racing in 15-20 knots.
I had never raced in a downwind slalom format before, but I loved it! The start was way upwind, barely visible from the beach, and there were two jibe marks positioned so that you sailed in a long zig-zag on the way to the finish by the beach. (One less jibe mark than in my diagram of a downwind slalom course that I made for a
previous post
.)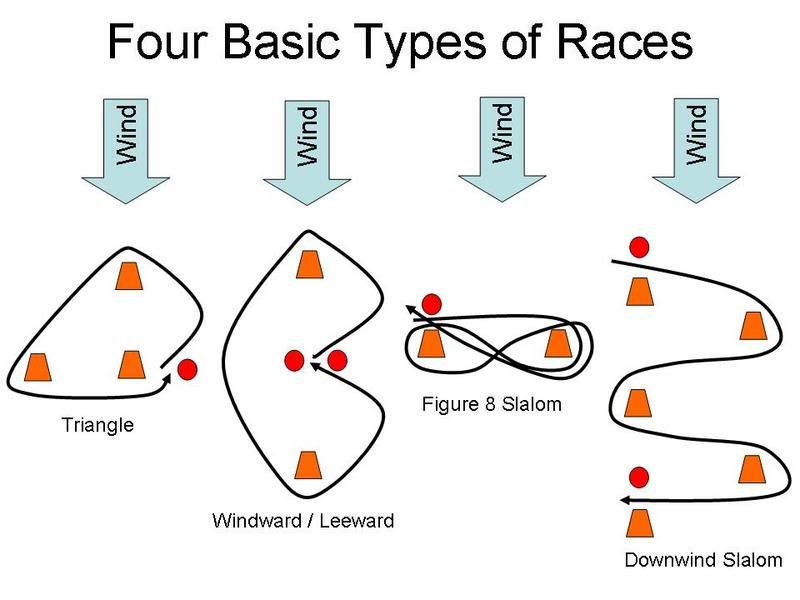 You could really go full speed because you never had to go upwind. My full speed wasn't that impressive since I was riding wave-oriented gear (a 6.6 Aerotech Charge with a skinny mast and 106 liter Exocet Cross with the stock fin), and because I'm not especially fast to begin with. Nevertheless, I managed to avoid finishing "DFL" in any of the four races by starting on time, staying planing, and making jibes. If racing becomes a regular event here I may invest in a faster board.
The leader in this picture is Don Wagner. He makes his own boards. I'm the guy with the very blue sail near the right.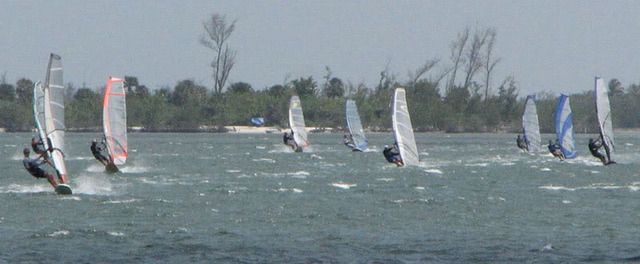 Kudos to Rick Randall, aka Maui Malone, for organizing this race, and to Safina England, Sarah Taylor, and the others who helped out with score-keeping, etc.
There are reports, pictures and results of both races at Alex Morales' website,
Miami Windsurfing
and a good write-up of the Spring Fling at Dave Taylor's blog:
Treasure Coast Windsurfers
.
To get "in the know" about upcoming local races and stuff, you should join the
East Central Florida Windsurfing
yahoo group and check the box to sign up to receive emails.